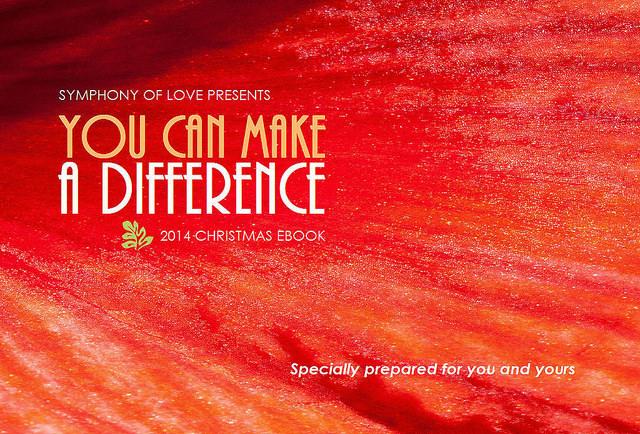 Christmas, it's the most Wonderful Time of the year! Christmas comes early this year at Symphony of Love. Actually I am late already; a Filipino friend whatsapped me a Christmas picture message on the morning of 1st December.
I replied saying 'Early?'
She replied, "Once December is in, it's already Christmas time for me."
I jokingly said that the Singaporean's Kiasuness ('Kiasu,' originating from Singapore's Hokkien dialect which may literally be translated as being "afraid of losing out") has certainly rubbed off on her.
She laughed it off with a 'No' and further explained that Filipinos started celebrating Christmas once the month of December kicked in and she was just being Filipino.
I hope she'll not be caught in the shopping mall feeding frenzy. Perhaps, we should all sit quietly and ask ourselves a very simple question, "What is the spirit of Christmas?" I believe this varies from person to person. To me, Christmas is about love, compassion and giving; it is about making a difference in the lives of people around me.
And this is the focus of Symphony of Love this Christmas – about you – you can make a difference. I believe that as long as we are alive, we have the opportunities and privileges to continue to making a difference in the lives of people around us. You can make the world a better place because you matter.
Whether you are making a donation for a good cause or volunteering your time in your community or even just giving anyone who crosses your path a warm smile, it will surely make a difference. You will never know when a moment and your kindness can have an impact on a life. And we certainly do not have to wait until it is Christmas to do all these. Quoting Bob Hope, "My idea of Christmas, whether old-fashioned or modern, is very simple: loving others. Come to think of it, why do we have to wait for Christmas to do that?"
I sincerely hope that this Christmas eBook 'You can make a difference' could continue to inspire you to make a difference; make every moment, every day in 2015 a Wonderful Time of the year and it would really be Christmas every day!
Download your free copy of 'You can make a difference' Now
______________________________________
If you're looking for a way to give back, you to check out World Vision's Gift Catalog.
Photo credit: Stefan Schweihofer