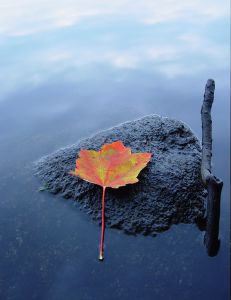 If there was anything my junior college Physics tutor taught me, it was definitely not Physics. She taught us one lesson which had nothing much to do with Physics and yet it was one of the important lessons in my life.
In one of the tutorial lessons, she told us, 'don't worry, 70% of our worries will not come true anyway. Worrying is a waste of time' I had no idea where she got her statistics from but at that moment I took it in as it was. However, I have been using this to consciously remind myself every time I get too worry about something.
Over the years, through experiences of others and myself, I have also learnt that there are some situations which we can do something about and some which we do not have control.
Worrying helps especially in situations where we can do something to change them; it can act as a strong motivating force to propel us into action to change the situations. However, worrying becomes futile and energy draining when we cannot control the outcomes or there is nothing we can do about it. In additional, we risk physical and mental health issues when we are overly worried.
Duke Ellington put it best when he said, "There are two kinds of worries – those you can do something about and those you can't. Don't spend any time on the latter." Such a simple and straightforward truth and yet it can be a challenge for many to follow.
Just recently, my partially erupted wisdom tooth had been giving me problem; my gum was not only swollen but it had also caused my face to be slightly swollen. Eating and chewing became a slight painful experience. I had similar experiences before but the swell usually went down after a few days.
This time round the swell persisted. I knew the time had come for something to be done about it. I went for an initial dental checkup on Tuesday and made another appointment with a dental surgeon to have the partially erupted wisdom tooth surgically removed on Thursday.
I had admitted to a few friends that I was scared and worried about it. Although I knew that it was just a common and small surgery that requires only local anesthesia, I couldn't help worrying about it. I believe you may have heard many horror stories of the drilling involved.
My main fear was the pain from the injection; I had a pretty bad experience with the injection when I was young. Perhaps because I was young then, so the pain was intensified many times.
Thursday came and I was punctual with the appointment. The registration process was prompt and professional. In about 10 minutes, I was already lying on the dental surgical chair. The dental surgeon approached me with the first injection and once she administered me with the first injection, my worry of the pain was all gone. I could barely feel the injection. Maybe a bite by a red ant is even worse than the injection.
Soon after the injections, I was blindfolded to protect my eyes from the lightings. The moments in between blindfolded and waiting for the dental surgeon to start was a little unbearable as I recalled the horror stories. But talking to the nurses helped. It was quite a lot of drilling after that and much pressures were applied by the dental surgeon. Before I knew it, it was all done. Did I feel pain? The local anesthesia worked well.
Worrying was a waste of time, the experience was not even half as frightening as I imagined it to be. I could have gotten over with it 2 years ago. However, individual's experience varies.