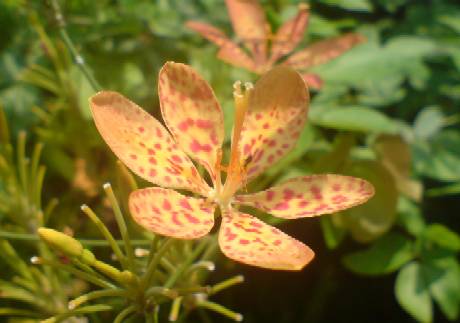 More Wordless Wednesday
This was taken with Sony Ericsson Cyber-shot Camera Phone in the Singapore HortPark, marked as Leopard Flower and origin from China. In Wikipedia, it was stated that it is used in Chinese villages for its medicinal values. The first thing I saw in the car park of HortPark was this beautiful flower. And there were bees busy pollinating the flower. I tried to take shots of the bees on the Leopard Flower but I was too slow.
According to Wikipedia, Belamcanda chinensis (Blackberry lily, Leopard flower, Leopard lily) is an ornamental plant in the Iridaceae family. In 2005, based on molecular DNA sequence evidence, Belamcanda chinensis, the sole species in the genus Belamcanda, was transferred to the genus Iris and renamed Iris domestica.
The plant grows 60-90 cm tall in full sun and is often found blanketing hill sides, the flowers can range form red to yellow to orange or mixed and bloom in summer to early autumn (fall).
————————————
The Louis L'Amour Collection: Start Your Own Journey to the Old West with America's Favorite Storyteller! Get Your Risk-Free Preview!