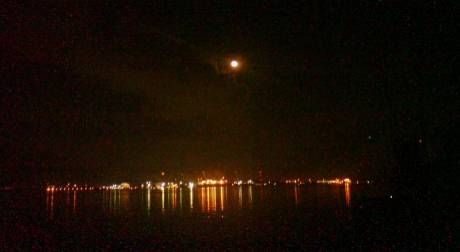 The moon was big and bright on Friday night. This shot was also taken by the Sony Ericsson Cyber-shot camera phone, in Twilight Landscape mode.
The Friday night moon reminded me of the song 'Moon River,' which I can sing along with anytime. Wouldn't it be nice to talk a stroll in a moonlit night like this?
Moon River
Moon River, wider than a mile,
I'm crossing you in style some day.
Oh, dream maker, you heart breaker,
wherever you're going I'm going your way.
Two drifters off to see the world.
There's such a lot of world to see.
We're after the same rainbow's end–
waiting 'round the bend,
my huckleberry friend,
Moon River and me.
"Moon River" is a song composed by Johnny Mercer (lyrics) and Henry Mancini (music) in 1961, for whom it won that year's Academy Award for Best Original Song. It was originally sung in the movie Breakfast at Tiffany's by Audrey Hepburn, although it has been covered by many other artists. The song also won the 1962 Grammy Award for Record of the Year. (Read more about this song at Wikipedia)
Let us take a walk down the memory lane this weekend. Do you remember where were you and what you were doing when you first heard this song?