"People die all the time. Life is a lot more fragile than we think. So you should treat others in a way that leaves no regrets. Fairly, and if possible, sincerely. It's too easy not to make the effort, then weep and wring your hands after the person dies."

Haruki Murakami
________________________________
Life is indeed a lot more fragile than we think. Don't you think so too? Read a heartbreaking piece of news this morning, 'Girl, 16, dies after being flung out of van.' According to the paper, "The first-year ITE College East student fell out of a van when its side door slid open as it made a turn at a carpark." This set me in a pensive mood during my morning walk. Too often we have taken life for granted. Tragedy like this can occur at any time. It makes me realise, and I hope it makes you realise too, how fragile life really is.
If we are not counting our blessings every day and aren't grateful for them before our day is done, we are taking life for granted. Sometimes, it take tragedies in life to remind us the true value of life and how beautiful it really is.
In recognition of the fragility of life, my intention is not to preach living so cautiously to the extent that we are afraid of doing anything that could endanger our lives and to the extent that we forget to live. I just want to live consciously instead. I am also not saying not to take risks in life. I believe instead that we must live life to the fullest, we must take risks but not be reckless.
Living consciously means getting your eyes off the small display, ranging from 4 to 9.7-inch, in your hands. Immediately you are rewarded with an almost 180-degree horizontal field of view in front of you. Not to mention that with eyeball rotation of about 90-degree (head rotation excluded, peripheral vision included), horizontal field of view is as high as 270-degree (thank you Wikipedia). Conscious living also means making connections; making eye contacts, smiling, conversing and engaging in lives around you. It is being mindful of the beauties of life all around us. It is about being here and now; seeing, listening, speaking, tasting and feeling.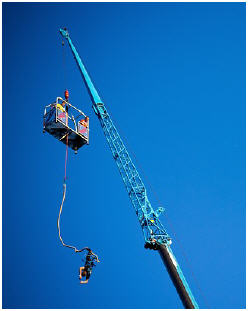 Besides living consciously, I want to live life fully, try more, take more risks, pursue my dreams and engage in more things that make my heart pounds faster. I love the thrills from activities like bungee jump (checked), tandem skydiving, hang gliding etc and these are all in my bucket list. I understand the higher risks involved in these activities. And precisely because of the higher risks, much precautions and safety measures are taken in them.
Furthermore, there are risks involved in all that we do but the difference lies in whether we are taking risk or being reckless. There is risk in driving but texting while driving is reckless. In doing that, we are not only endangering the lives of other road users but we are also endangering that of our own.
To really appreciate life is to live consciously. And because life is fragile, all the more I must live it fully and be ever ready to take risks. Quoting Steve Jobs, "… remembering that your are going to die is the best way I know to avoid the trap of thinking you have something to lose. You are already naked. There is no reason not to follow your heart." What do we have to lose? As the saying goes, "The greatest risk in life is to risk nothing."
How do you appreciate life?
_________________________________
Great Hotel Deals in Phuket, Thailand and go Bungee Jumping at World Bungy Patong at Patong Beach.