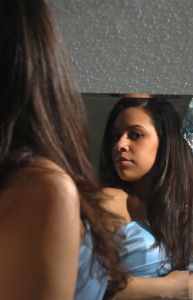 A few days ago, a girl told me that she was feeling very sad that day. A friend whom she had always hung out with was caught in a gossiping session about her and one of the guys in the group was bad-mouthing her but this friend of hers not only did not stand up for her, but was still relating the whole incidence to her with much enthusiasm. Being quite easily affected by words of others, "… my heart literally sank to the bottomless pit…," in her exact words. Fortunately, she had her guardian angels to look out for her that day; who managed to reverse the strong negative feeling she felt and made her feeling great again instantly. I couldn't imagine what would happen if there was no one there with her. She is again ready to inspire the whole world. I called her the POWER LADY! I have always believe in her power to inspire the world! How can we empower ourselves?
How many of us had been through similar situation like this? How did you handle it? Were you as upset and disturbed too? I believe that most of us had been through similar situation at one point or another. As much as we do not want to, there will be times when the words of others will make us doubt ourselves; doubting if we can really achieve what we set in our mind to achieve, doubting if we are good enough, and to the extend of believing in what the others are saying.
The night when she was relating her experience with me, she asked me to share my feeling about the incidence she had that day. I told her, "I have just one thing to share with her." I heard Abraham Lincoln speaking to me and I shared one of his many quotations with her. "I am not bothered by what others say about me as long as I know they do not speak the truth of me."
Such simple truth and yet it could be hard to grasp at time. I have shared this quotation with family and friends who were caught in similar situation like the girl countless times. Every time I shared it, it also served as a gentle reminder to myself. We cannot always control what others are saying but we can always control or rather choose how we want to feel or react to what others are saying. They have the right to speak their mind but we have every reason to guard our mind against any negativity. The mind is our single most valuable asset. Empowering ourselves, especially our mind is very important.
You may ask me, "What if they are speaking the truth of me?" I would be glad if others point out my 'blind spots.' It would give me an opportunity to reflect upon them and to change if there is a need to. This gives us a chance to improve ourselves and to be a better being.
If there is just one thing I want to share today, it is the quotation of Abraham Lincoln above, "I am not bothered by what others say about me as long as I know they do not speak the truth of me." And remember, "We are the master of our fate: We are the captain of our soul!"
————————————-
Photo by bjearwicke