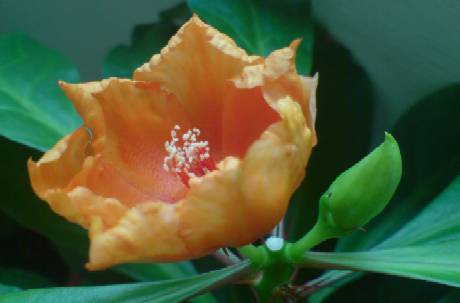 More Wordless Wednesday
I took this picture of a blooming flower from a plant I have outside my home about two months ago. My mother is the one who is keeping it and I have no idea the name of the plant. For almost 4 years I have never seen any flowers blooming from it. However, about two months ago, it surprised me with this beautiful flower. I just have to take a shot of it with my Sony Cyber-shot camera phone. Yes, this camera phone can produce some decent shots.
There may be question in your head, "Why 'Life and Death' in the title?" When I was taking shots of the flower, I noticed a green bud next to it; promising yet another beautiful bloom – another life. One life was moving towards the end and the other was just coming into life. Is it 'Life beginning at the ending of another' or is it 'Life ending at the beginning of another?'
Like 'Chicken or Egg?' Frankly, does it really matter whichever come first. Most importantly was that the flower bloomed beautifully for when it was time for it to bloom. Such is the work of nature, to keep the cycle going. The plant does not question what nature has for it. Until the next bloom, the cycle continues everywhere around us, everyday, every hour, every minute and every second.
————————————-
Fabric.com… Wholesale to the public!