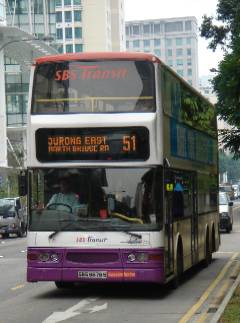 How was your weekend? I hope you had a wonderful weekend with love, peace and inspiration. For me, I had a nostalgic weekend; I took a ride on a Double-Decker bus. For some of you, a Double-Decker bus ride may be the norm for you everyday; commuting from places to places. Did you enjoy your ride? Or the ride today was just like any other day?
Back in 1995 – July 1997, taking the Double-Decker bus ride was the norm for me almost everyday. I would need to ride for almost an hour from my home to my camp and then another hour ride from my camp to home. I did that for almost everyday. However, I was always looking forward to the bus ride and to seeing the special someone every morning.
That is not the point. My nostalgic weekend has nothing to do with the girl I saw during the bus ride but the bus ride itself. When I was even younger, I was a loner. I did not like to mix with people and I did not have many friends too. I love taking bus. Almost every other weekend, I would go on hours of bus ride. It was always exciting to go on a bus ride.
Sometimes it was a ride to the airport where I would stay for awhile at the departure hall to looked at the planes taking off or landing. Sometimes I would take a bus ride to the beach where I would cycle to a quiet location and sat there for an hour or two. Almost everywhere I went, I took the bus.
Slowly I became sort of an 'expert' in bus taking but gradually a bus ride also became just a bus ride to get me from point A to point B.
In the book 'Zen Mind, Beginner's Mind,' by Shunryu Suzuki it states:
In the beginner's mind there are many possibilities, but in the expert's there are few.
In the book, it suggests that the beginner's mind is an empty mind which is always ready for anything; it is open to everything. On the other hand, the expert's mind is one which thought that it had attained something and thus limited.
Thus the book suggests that we always keep our beginner's mind. I did not really understand the full meaning of it until I boarded a Double-Decker bus on my way to meet up my friends. It was just another bus ride but when I got on the upper deck of the bus and sat down, I was brought back to my younger days of bus taking. Suddenly the bus ride became exciting and a 'new' experience. I was immersing in the view from the window.
For a while the possibilities seemed unlimited; new roads, buildings and places were discovered during the ride. The beginner's mind at work. Same old bus ride but approached with a beginner's mind brought new perspectives, experiences and excitements.
When we went through something repetitively, eventually it would lose the 'freshness' factor. Has it? Or in the process, we have acquired the attitude that 'I knew it all already.' It is easier to have a beginner's mind with new things or people. The challenge is keeping it going; always having a beginner's mind.
Photo from Wikipedia
————————————
Zen Mind, Beginner's Mind