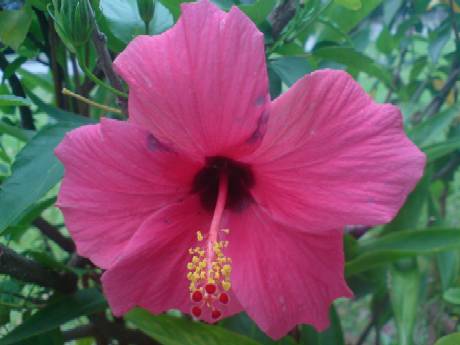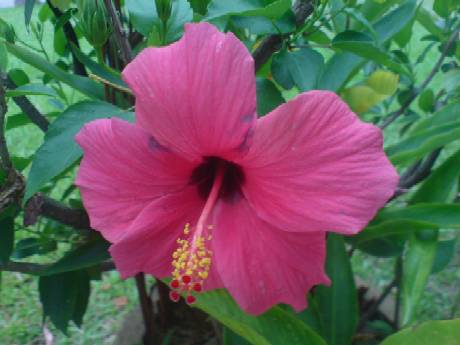 More Wordless Wednesday
My brother and I brought our nephews to the barber for their regular haircut. I saw these blooming red flowers and just had to take out my Sony Cybershot camera phone again. And one of the photos was taken by my 5 years old niece. Sony Cybershot camera phone is indeed quite easy to use. I just have to give my 5 years old niece some simple instructions and I was amazed at how her shot turned out.
Could you tell which shot was taken by my 5 years old niece? And what is your reason for choosing the particular shot?
Now to unveil the mystery: The second one is the one taken by my 5 years old niece. Some of you have made a logical guess that the first photo is the one taken by my niece as children like close up. You could have been right if not for a small drain between the flower and my niece. Her arms were not long enough to get a close up at the flower.
There were some of you who guessed the second one because there are more details in the first shot. I must say you are absolutely right as I had intentionally gone up very close to the flower and set the macro mode to take the shot. Yes, the Sony Cybershot camera phone has a macro mode that allows you to take decent close up shot.
So have you guessed the right one? 🙂
—————————–
Join any Discount Dental Plan and get a FREE Discount Vision Plan!
Thank you Jack from Tom's Cats for passing me the Zombie Chicken Award. Don't know what is this award about. Beats me too! But when I read about this award at Tom's Cats, I was humbled by what I read. I can only continue to strive to love and to inspire.
"The blogger who receives this award believes in the Tao of the zombie chicken – excellence, grace and persistence in all situations, even in the midst of a zombie apocalypse. These amazing bloggers regularly produce content so remarkable that their readers would brave a raving pack of zombie chickens just to be able to read their inspiring words. As a recipient of this world-renowned award, you now have the task of passing it on to at least 5 other worthy bloggers. Do not risk the wrath of the zombie chickens by choosing unwisely or not choosing at all…"
Founder of Symphony of Love and find his meaning in life in inspiring love, peace and happiness.