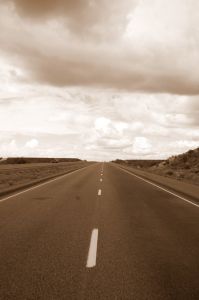 Reading the title of this post, did you think that I was talking about the movie 'Don't Look Back,' starring Bob Dylan. 'Don't Look Back' is a 1967 documentary film by D.A. Pennebaker that principally covers Bob Dylan's 1965 concert tour of the United Kingdom. In 1998, the film was selected for preservation in the United States National Film Registry by the Library of Congress as being "culturally, historically, or aesthetically significant".
And 'No,' this post has nothing to do with the song 'Don't Look Back' by Boston.
This is a poem shared by a subscriber of Symphony of Love. This poem reminds me of a previous post I wrote on 'We Can't Take Today with Us.' There is a similar message in this poem for us to look ahead and to move on with life.
There are numerous challenges in life and with these challenges, we often have to make difficult decisions. A lot of people dislike making decisions, especially because of the element of uncertainties. On top of that, making decisions usually require us to move out of our comfort zones; which many are resistant to change. However, when we do make decisions, let us embrace the changes and move forward courageously. The dawn is breaking …
Don't Look Back
As you travel through life, there are always those times
When decisions just have to be made;
When the choices are hard and solutions seem scarce,
And the rain seems to soak your parade.
There are some situations where all you can do
Is to simply let go and move on,
Gather courage together and choose a direction
That carries you toward a new dawn.
So pack up your troubles and take a step forward-
The process of change can be tough,
But think about all the excitement ahead,
If you can be stalwart enough.
There could be adventures you never imagined
Just waiting around the next bend –
And wishes and dreams just about to come true
In ways you can't yet comprehend.
Perhaps you'll find friendships that spring from new interests
As you challenge your status quo,
And you learn there are so many options in life
And so many ways you can grow.
Perhaps you'll go places you never expected
And see things you've never seen –
Or travel to fabulous far-away worlds
And wonderful spots in between.
Perhaps you'll find warmth and affection and caring –
A "somebody special" who's there
To help you stay centered and listen with interest
To stories and feelings you share.
Perhaps you'll find comfort in knowing your friends
Are supportive of all that you do –
And believe that whatever decisions you make,
They'll be the right choices for you.
So keep putting one foot in front of the other,
And taking your life day by day.
There's a brighter tomorrow that's just down the road,
Don't look back, you're not going that way.
Contributed by Siow Wai Wong, Author Unknown.
——————————-
DentalPlans.com – Savings, Service, and Selection