Children in an Indonesian village in the district of Lebak having to climb over a collapsed bridge to make their way to school. They say they prefer to take this perilous route because a detour to the next bridge would add half an hour to their journey. BBC News
When I was a little boy, I walked to my primary school in a well-lit path on my own every morning; the whole journey took me barely 5 minutes. Yes, I was one of the very fortunate ones to live in close proximity to my school. During my secondary days, the journey to school became 2 bus rides and a lot of walking in the evening. Junior college was also just a bus ride and some walking away. I remember it took me less than 30 minutes to travel to school each day – in comfortable means; the walking was of course by choice and not because I had to.
I have previously read about children walking miles to get to school every day and have also watched local program on how children in one country travel to another for education every day. This morning, I am truly inspired by the extend these children went through to get to school; their determination and hunger for knowledge are truly admirable! This is a must share with my niece and nephews!
Be ready to be moved and inspired by these kids!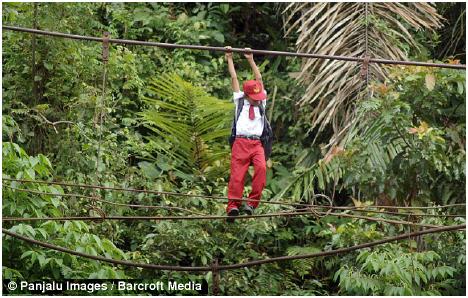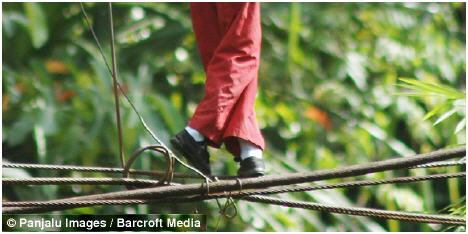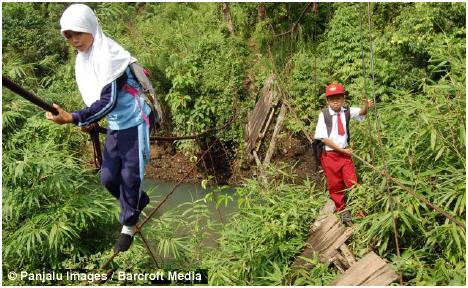 In the pictures above, according to Daily Mail, "Children use high wires to cross the river, 30 feet below, to get to school in Padang, Indonesia. Once across the river the children have to walk seven miles to reach their school. Local photographer Igoy Fitra Yogi, 31, described how the brave children faced injury and possible death by drowning so they could get to school."
Daily Mail reported, "Children in Indonesia are risking their lives everyday just to get to school. They use an aqueduct, suspended hundreds of metres above the ground as a shortcut, even though it was not built for people to walk on. It is meant to transport water. Even though it is dangerous, they would rather use the precarious structure than walk a distance over three miles."
From The Guardian, "For Daisy Mora, her brother Jamid and the children of 11 other families who live on the forested slopes of the Rio Negro valley, 60km south of Bogota, this is the only way to get across the canyon to school. Steel cables 800m in length are strung 400m above the canopy between Daisy's hamlet and the slope opposite. She attaches the sack containing her brother – he is too young, at five, to make the crossing alone – and herself to a pulley, knotting the ends of a hemp rope to create a seat. A branch in the shape of a wishbone forms a crude brake, which slows them to around 50 miles an hour. The entire journey takes 60 seconds.
As she speeds towards the tyre that acts as a buffer on the other side, Daisy hammers at the steel bolt on the pulley to ensure it doesn't loosen. It grates and sparks, and the wooden brake starts to smoke from the friction.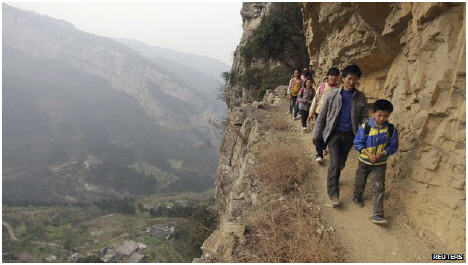 According to Reveal.co.uk, "They have to walk along a crumbling 2ft-wide path – along a cliff path. The route was originally made as an irrigation ditch but now the children use it daily to get to Banpo school in Guizhou, China. There is a safer route but it would take twice the time.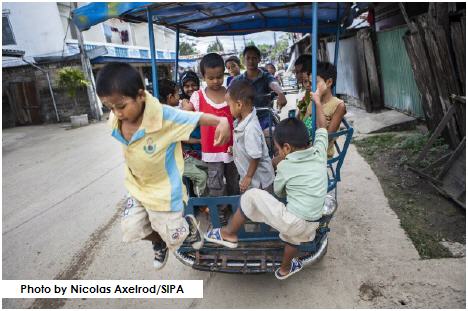 By Kate Hinds, WNYC, "Children going to school via somlot, a motorcycle rickshaw in Mae Sot, Thailand. The driver is also the children's teacher. "If I can't get the kids only 50% would attend class," he said."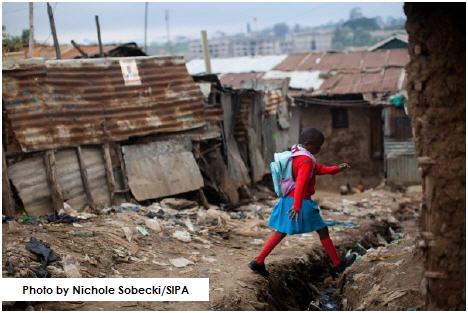 Also as reported by Kate Hinds, "Six-year-old Elizabeth Atenio walks two hours every day to attend classes at the Kibera School for Girls in Nairobi."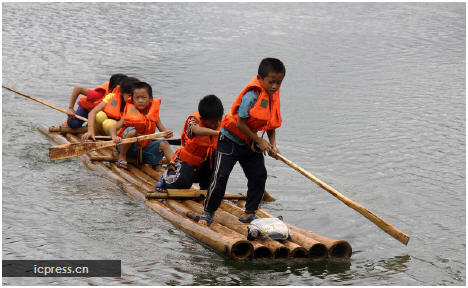 CHINADAILY.com.cn, "Elementary school students row a raft to school in Gulong township, Southwest China's Guangxi Zhuang autonomous region, Sept 5, 2013. Among 80 students at the Chenshan campus of Chenping Village Elementary School in Gulong, more than 30 live on the other side of a reservoir and have to use bamboo rafts, rowing 500 meters to school. Otherwise, they have to go through a 4-kilometer mountain road that is often closed during flood season. After the reservoir was built in 1980, children as young as 4 or 5 have been relying on the raft, and third graders can usually row themselves. Parents have no time to take their children to school, and it is also hard to hire a boatman because people live quite far apart in the region. "Most children can swim, so there's no accident," residents said. The best local education authorities can do is to prepare everyone with a life jacket."
_________________________________
Through this sharing, I hope to raise a little awareness with regards to education for these children and at the same time, to inspire and move you especially if you have the resource and means to reach out to these children. Quoting Nelson Mandela, "Education is the most powerful weapon which you can use to change the world." Never underestimate what the gift of education can do for these children and the world. How was your personal journeys to school?
_________________________________
Fund Literacy, Care for the Environment, and get a Fair Price on the Books you Want.