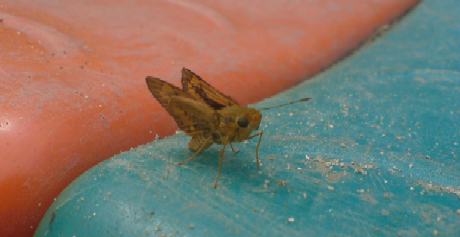 More Wordless Wednesday
Over the weekend, my sister and I brought her children to the playground at Pasir Ris Park. The children had a few hour of fun going down different kind of slides. Such simple joy; they just kept going at the slides. And they wouldn't want to leave if we didn't 'force' them to.
While we were at the playground, this little creature (thanks to Amanda @ MooreBlogLife, I now know this is a Woodland Skipper) landed right in front of one of my nephews. My nephew started to huff and puff at it, like the big bad wolf in the three little pigs. No, it didn't make any attempt to fly away at all. What a fearless creature, standing up to a creature so many times its size! I just had to take a shot of it with my Sony Ericsson Cyber-shot camera phone.
There are some limitations in using a camera phone to take photo. Go over to Amanda's site to see her shot of the Woodland Skipper, her shot is so much clearer and you can see much more details of it. The power of a proper camera is truly amazing. My shot is nothing close to her photo.
Pretty soon all the other children gathered around it. I was kind of worry with the fate of the little creature. Fortunately, it knew just when to take flight.
There are times in life when we have to stand up fearlessly to challenges, like the little creature, and yet know when to 'take flight.' The challenge is knowing when to do which. Some of us are ever ready to give up when we hit walls and yet others just do not want to let go and move on. When we take time out to reflect in the quietness, our inner voice will reach out to us. We have to learn to listen and to trust that inner voice.
I am glad to say that all children and adults were friendly and no insect was injured or treated badly in this experience. 🙂
——————————
Give a gift that makes a difference. Buy an inspirational gift from UNICEF