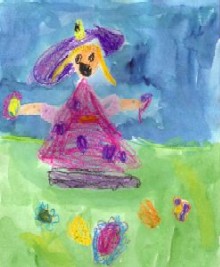 Still remember the post on Children See, Children Do? Through the time I spent with my niece and nephews, I had witnessed countless time how they had always tried to imitate their parents' actions. My niece would often wear her mother's shoes and pretend to be shopping or marketing. And ever since she starts school, she has become the 'teacher' to her two brothers at home. As for my nephews, they imitated their father by driving their imaginary cars around the house.
More often than not, we found their actions funny and they never failed to bring smiles to us. All these acts have been more amusing than bad so far.
However, just a few day ago, my sister shared with me something which left a deep impression in me; children, they are really watching us. Whether we like it or not, they are not only watching but doing what we are doing too. To some extent, what she has shared with me is quite disturbing.
Allow me to share what happened. My sister has been making unsuccessful attempts to grow money plants in her house. All the money plants didn't last for long so far. A recent one was still blooming about a month back. But two weeks ago when I was at her place, it seemed that the money plant was reduced to a few leave. Not a beautiful sight at all.
Sometimes I wonder too, why some people seem to be able to make anything they grow bloom and some have no luck at all. My sister's neighbour seems to have that magical touch; the money plant outside her house is blooming beautifully. So my sister decided to 'borrow' or rather cut a part of her neighbour's money plant to try to grow in her house.
Well … she should have just asked for permission right? She didn't. And she did it in front of her 5 years old daughter and twin 3 years old son. A BIG mistake! The moment my sister cut out a part of her neighbour's money plant, her daughter asked, "Mom, why are you stealing Auntie's money plant?" My sister said, "I'm not stealing. I cannot ask for Auntie's permission because she is not around." Brilliant answer? BIGGER mistake! Her daughter said, "It's stealing if you do not ask for permission." And yes, she is 5 years old.
A moment of rude awakening. My sister was dumbfounded! Mistake number 1: She should have just asked for permission to cut part of the plant and yes, my niece was right that 'taking without asking is stealing.' Mistake number 2: My sister should have admitted that she did the wrong thing and should not have tried to cover up.
This is definitely something which we do not want our children to pick up. Aren't we supposed to be the one to tell them about life's lessons? And yet we are re-learning these lessons from them. Their innocence and untainted eyes have taught us the values which we once knew but may have abandoned in the process of growing up.
Children are definitely watching what we are doing. So we must be careful of what we are doing in front of them. Let me put it this way, if we watch what we are doing even when they are not watching us, then very often we do not have to worry what we are doing when they are watching us.
How about you, in what way(s) has your children been copying you? Have they done anything so far that left a particular deep impression in you and have you watching your actions?
Photo by hortongrou
————————————
Click Here to View a List of all Discount Dental Plans Available