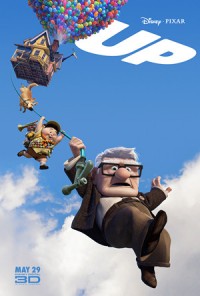 Last week, a friend was talking to me about watching the Disney-Pixar's movie UP and we were planning to watch it over the weekend but due to a slight miscommunication, we did not manage to catch it. Frankly speaking, I am not really a fan of animation these days but there was just something special about UP.
Around June, I read a story about Colby Curtin, a 10-year-old with a rare form of cancer, who was staying alive for one thing – Disney-Pixar's UP. Over the weekend while catching up with my friends, we were talking about it and I was quite surprised that all 7 of them have not read or heard about the story of Colby. Then again, it may not be a surprise, knowing how much more time I am spending online than them. Have you read about the story?
Pixar Grants Girl's Dying Wish to See 'UP'
"From the minute Colby saw the previews to the Disney-Pixar movie UP, she was desperate to see it. Colby had been diagnosed with vascular cancer about three years ago, said her mother, Lisa Curtin, and at the beginning of this month it became apparent that she would die soon and was too ill to be moved to a theater to see the film," according to a news report in Orange County Register.
A family friend started to make cold-call to Pixar and Disney to see if someone could help. She guessed a name and the automated telephone answering system transferred her to someone who could help her. The message was received by Pixar officials, who agreed to send someone to Colby's house the next day with a copy of UP for a private screening.
Colby's mother, said she had asked her daughter if she could hang on until the movie arrived.
"I'm ready (to die), but I'm going to wait for the movie," she said her daughter replied.
The Pixar's employee arrived with the DVD, stuffed animals of characters and other movie memorabilia.
According to Orange County Register, "Colby couldn't see the screen because the pain kept her eyes closed so her mother gave her a play-by-play of the film. At the end of the film, the mother asked if her daughter enjoyed the movie and Colby nodded yes, Lisa Curtin said."
Colby died with her mom and dad nearby later that evening.
It was a sad but yet very heartwarming true story that could have happened somewhere near you. Sometimes we can be overwhelmed by all the negativities happening around us and bringing us down. It is story like this that set everything in the right track and renew our beliefs in the goodness in people. The strength of Colby Curtin had touched my heart and I hope it will touch yours too.
Disney-Pixar's UP is one movie that both kids and adults can enjoy. There was a little girl about 3-4 years old sitting right in front of me during the movie and she was clapping and cheering throughout the movie; it truly thrilled me to see how happy she was.
There were subtle messages in the movie which I thought was pretty thought provoking. Sometimes in life, we may have to put a stop to our dreams temporary so that we can help others achieve their dreams. And eventually our own dreams too will come true.
_____________________________________
Photo credit: Wikipedia