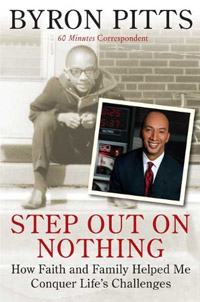 I read an email from BetterWorldBooks.com yesterday, to inform me that November is National Family Literacy Month and they are offering 4 used children's books for $10. Anyway, that was not what caught my attention. If you had read my previous post 'Building a Better World through Education,' you would know that I believe that literacy can change a person's life.
You may ask, "what difference will it make?" I wouldn't know. But if you know who is Byron Pitts, I believe it made a great deal of difference for him. From CBS News, Byron Pitts was named a contributor to "60 Minutes" and chief national correspondent for "The CBS Evening News with Katie Couric" in Jan. 2009. He had been a national correspondent since February 2006. He was what caught my attention when I read the email from BetterWorldBooks.com yesterday.
Pitts was one of CBS News' lead reporters during the Sept. 11 attacks and won a national Emmy award for his coverage. Pitts other awards include a national Emmy Award for his coverage of the Chicago train wreck in 1999 and a National Association of Black Journalists Award. He is also the recipient of four Associated Press Awards and six regional Emmy Awards.
And yet a therapist in elementary informed his mother that he could not read. According to The Early Show, Pitts is functionally illiterate at 12 years old and who stuttered until he was 20. Could you imagine him ending up in the field of journalism, let alone a chief national correspondent and a "60 Minutes" contributor?
Pitts attributes his success by being surrounded by "regular folks," including coaches, teachers, the priest from his high school and his college professors. To Pitts, his mother has always been around to support him and to encourage him in good days and bad days.
Byron Pitts story reminds me of the story I read about Thomas Edison. According to Wikipedia, the young Edison's mind often wandered, and his teacher, the Reverend Engle, was overheard calling him "addled." Edison recalled later, "My mother was the making of me. She was so true, so sure of me; and I felt I had something to live for, someone I must not disappoint." Both were fortunate that there was someone in their lives who believe and have faith in them.
How often have a well-meaning statement done more harm than good? When someone says you cannot achieve something, that person not only limits you to his/her thought, but also prevents you from reaching your potential. The next time when we speak, should we not take care not to kill someone's dream? Will you be one who will speak words of encouragement or one who will cause the death of a dream?
I hope the story of Byron Pitts will inspire you to overcome the challenges in your life now.