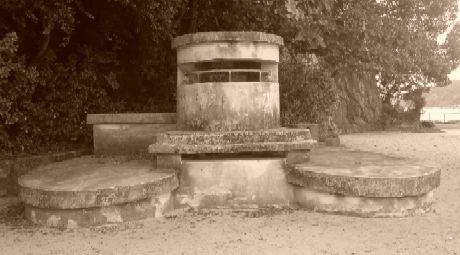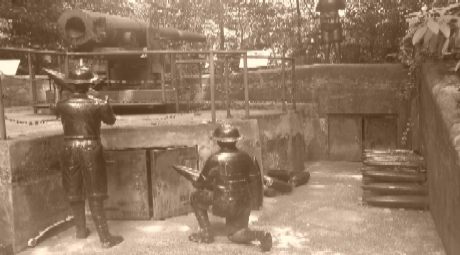 More Wordless Wednesday
"It isn't enough to talk about peace, one must believe it. And it isn't enough to to believe in it, one must work for it." – Eleanor Roosevelt
I was at Labrador Park, Singapore, a few weeks ago. It was like taking a walk in history. I took these shots with the Sony Ericsson Cyber-shot camera phone with sepia effect, to give it a little historical feel. The first shot was that of a machine gun post set up to protect 12-pounder guns on the hill right above it and the second shot was that of a gun.
Reading the title of this post, what came into your mind? I must be kidding? How can Human be beast? From Charles Darwin's Theory of Evolution, he theorized that humans were derived from apes. So that make us beast?
We have indeed come a long way. We have tried controlling our environment, which once (still is) fed and provided natural resources in abundance for us. We have created weapons capable of massive destruction. We have grown intellectually and yet emotionally ever ready to jump and to destroy each other at the slightest provocation.
Perhaps, all that wouldn't justify us as beast? Recently, I picked up an interesting book 'The World Without Us' by Alan Weisman from the library. Alan questions: How would the world change if human beings vanished from the earth right now, for good? What would the planet be like in a day, a week, a month … a millennium?
In the book, it is mentioned that we genetically most resemble the chimpanzees. Dr. Michael Wilson who does field research at Gombe Stream, Tanzania, observed chimpanzees in wild tearing apart and devouring red colobus monkeys. They are superb hunter, about 80% of their attempts are successful kills. Comparing to lions, it is only about one out of 10 or 20.
Dr. Michael Wilson also observed something sad and kind of depressing. Chimpanzees were seen stealing into the territories of neighboring chimp groups, ambushed unwary lone males, and maul them to death.
In the book (observed by Dr. Michael Wilson), "… He watched chimps over months patiently pick off males of neighboring clans until the territory and the females are theirs. He also seen pitched chimpanzee combat, and blood battles within a group to determine who is the alpha male." Do you see the resembles in human aggression and power struggles?
When I was reading that passage, I couldn't help but felt deeply how human has acted in the same way. We may have evolved to become a superior primate but some of us may not have renounced 'the beast' within yet. Fortunately, I believe that majority of the people have not only evolved intellectually but also emotionally.
———————————-
Free 72 hour trial – Find singles in your area with Match.com! Match.com promises you that if you don't find love in six months, they'll give you six months free!