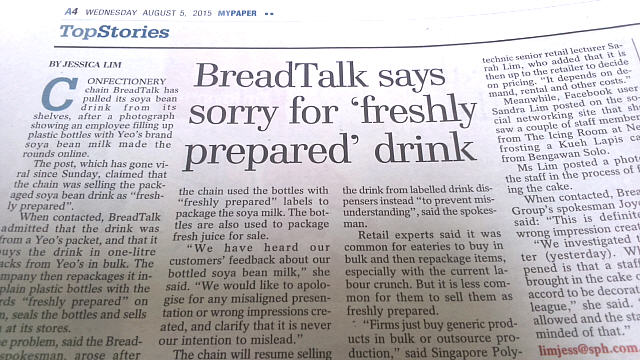 It takes 20 years to build a reputation and five minutes to ruin it. If you think about that, you'll do things differently.
– Warren Buffett –
_____________________________________
How much does trust cost?
BreadTalk was founded in July 2000 and over a span of 15 years, it has made remarkable progresses with more than 1000 outlets in across 17 territories with global staff strength of 7,000 employees. Not only has it become a reputable household brand in Singapore, it has also established its mark internationally with its bakery, restaurant and food atrium footprints.
It takes more than 15 years for BreadTalk to build up a reputable household brand in Singapore and then five minutes to ruin it – that would be about the time it would take an employee to fill up a plastic bottle with Yeo's brand soya bean milk. Of course there is nothing wrong for eateries to do something like this. In fact, retail experts said it was common for eateries to buy in bulk and then repackaging items, especially with the current labour crunch.
The problem was repackaging the soya bean milk into plastic bottles with the words "freshly prepared" on them. Not only has there been an element of dishonesty in marketing, BreadTalk has also abused the trust the consumers have on its products. According to a Straits Times reports:
Student Rachel Jiang, 16, said she must have consumed at least 50 bottles of BreadTalk's soya bean drink over the past two years.

"Every time I passed by the MRT station I would buy one. I thought it was freshly prepared, and I was paying more for (that)," said the Secondary 4 student.
Rachel wondered how long BreadTalk would have continued selling "freshly prepared" soya bean milk if they were not busted. Its actions only came to light after a photograph showing an employee filling plastic bottles with Yeo's brand soya bean milk made the rounds online. A friend also shared the news with us in a Group chat on Wednesday saying that she has bought the BreadTalk's soya bean milk before, thinking that it was freshly brewed.
BreadTalk has since pulled the bottled drink off its shelves. From the newspaper report I read yesterday, the spokesperson from BreadTalk said, "We would like to apologise for any misaligned presentation or wrong impressions created, and clarify that it is never our intention to mislead."
It was a good move for BreadTalk to admit the mistake, but to said that it was never their intention to mislead would just lead people to question their sincerity in the apology. Does it mean that we should not forgive BreadTalk for betrayal of that trust? Far from that, we can and will forgive sooner than we think. However, in the mean time, it will have to regain the trust which takes more than 15 years to build. Just remember it takes only minutes to lose it, so never allow yourself to ever do anything that would damage the trust people have in you.
A personal message to BreadTalk, do also remember that you are a brand representing Singapore. Besides answering to your shareholders, you have an additional responsibility to uphold the image and the integrity of Singapore which our pioneer generation has so painstakingly built over the last 50 years.
As we celebrate Singapore's 50th birthday over the coming weekend, let us remember this lesson of trust which BreadTalk has taught us. Do remember also that each individual is responsible to uphold the image and integrity of Singapore whenever we travel oversea for work or for leisure; constantly remind ourselves that we are the unofficial ambassadors representing Singapore. It is teamwork – Go Team Singapore!
To end this, I would like to share a short commercial on integrity; doing the right thing at all times and in all circumstances, whether or not anyone is watching. And how much does trust cost?