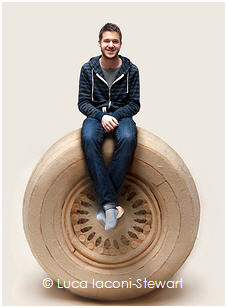 According to a featured story by Boeing, dated December 20, 2010, "Brian Baird, the 777 program manager, says … Currently, the program is producing 5 airplanes a month. In 2011, that will jump to 7 a month and then 8.3 a month in 2013."
Boeing can build eight 777 a month by 2013. Luca Iaconi-Stewart can build one too – over a period of 5 years. Luca Iaconi-Stewart's 1:60 model of an Air India Boeing 777-300ER is made entirely from manila file folders and dabs of glue, but it's almost as detailed as the real plane.
According to Wired: Iaconi-Stewart devoted an entire summer just to the seats (20 minutes for an economy seat, four to six hours for business class, and eight hours for first class). Tweezers helped.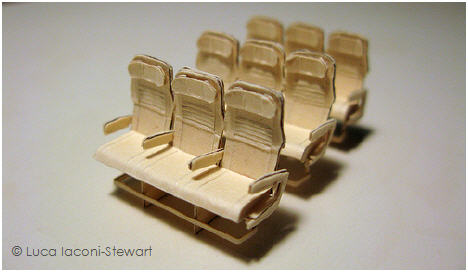 Economy-class seats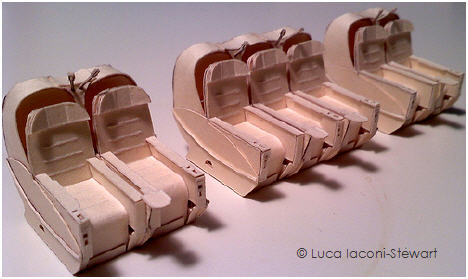 Row of Business-Class Seats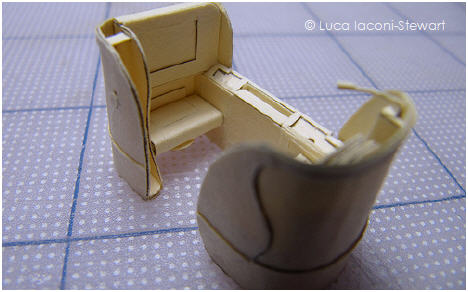 First-class suite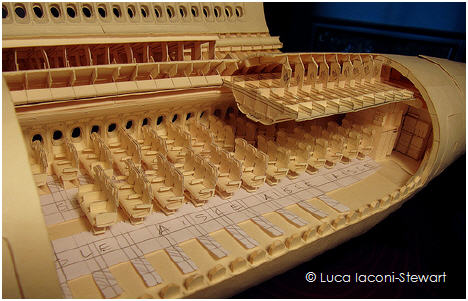 Economy Seat Installation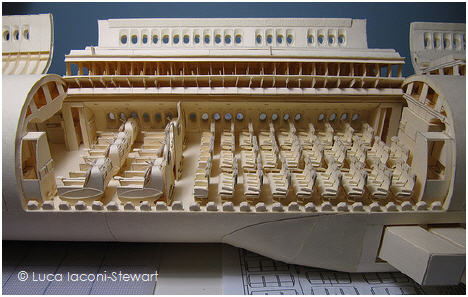 Business and Economy class
Completed cabin with all 342 seats installed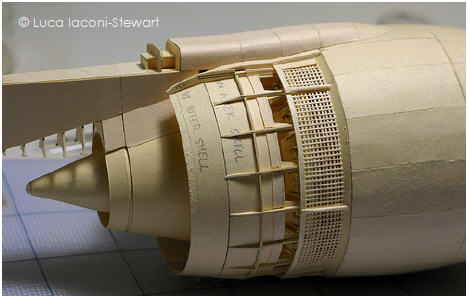 Thrust Reverser
A brief explanation of how thrust reversers work, and how Iaconi-Stewart tried to replicate their function on his model. Each engine contains about 900 pieces of paper, and took about 2 months to build.
Such incredible dedication, passion and focus. I was speechless when I first saw it. I was simply blown away by Iaconi-Stewart's detailed replication of the Boeing 777 from the seats (above images) to the thrust reverser (Video above), down to the retractable land gears (video below)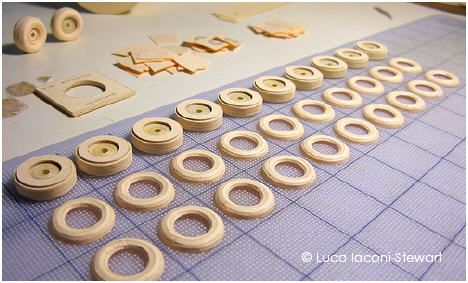 Wheel Assembly
Showing nose landing gear swing, hydraulic steering detail, and torsion link.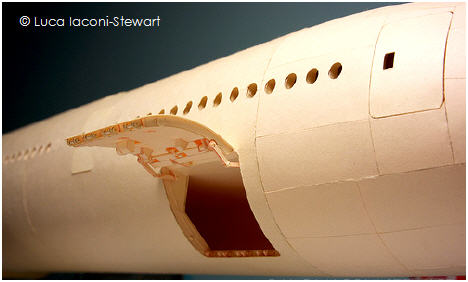 Forward Cargo Door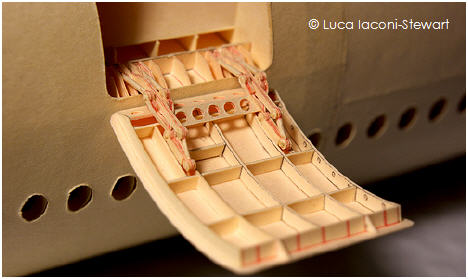 The aft cargo door attached to the hinge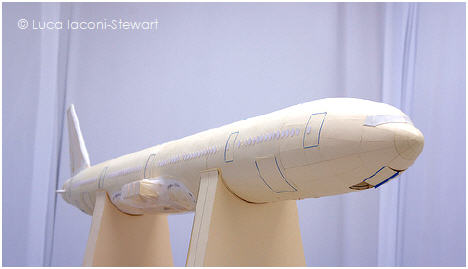 Painting in progress
This video documents the process that went into applying the Air India livery/gloss to the model 777. The actual painting process took over a month, and there's a lot that isn't shown in this video
I consider myself lucky to be able to see this great work through Facebook this morning. Below are some clarifications Iaconi-Stewart made, in his own words, at the comment's session in the Wired's report:
Just to clear a few things up, as they seem to have gotten lost in translation:

1. I started this project over 5 years ago. I by no means have spent 5 years on it. I do other things with my time too (including working).

2. I did not leave college to work on this project. I left for other reasons, and since leaving have resumed work on this, though again not nearly 24/7.

3. Yes, this is a crazy project (even I can admit that), but I feel lucky and very grateful that I've been afforded the opportunity to work on it.

4. Do not underestimate the complexity of a project like this. I never could have expected the amount of work that I'd end up putting in. Keep in mind that there are no engineering drawings publicly available, so I've had to design everything myself, which is tremendously difficult if you're trying to do it with any semblance of accuracy.

5. I am *not* planning on diving into another larger model. I'd love to, in theory, but there are more important things on my plate in the short term. It's more of a far-off dream/goal.
Check out Iaconi-Stewart's Flickr album to see other photos of this project. All photos in this post are used with written permission from Iaconi-Stewart.
__________________________
Priceline Flights – Select your Exact Flight & time or Name Your Own Price!