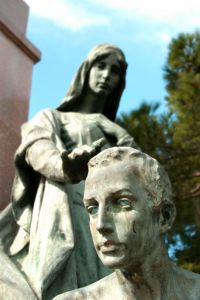 Do you still remember the post I did on Forgiveness? Gandhi said, "The weak can never forgive. Forgiveness is the attribute of the strong." This is one of the greatest forgiveness quotes. Indeed, it takes a strong person and a big heart to forgive. It has been a common misconception that forgiving someone means that the other person 'win.' However, forgiving someone actually put us in the 'winning' position.
Often time you have heard people saying, "How could I forgive him so easily for what he has done to me" or "I couldn't let the matter rest so easily, I must get back to him." The intense negative feelings associated in these statement are enough to devour you from within. Anger and hatred are very intense negative feelings that eat you slowly from within, draining away all your positive energy.
From Mitch Albom's book, 'The Five People You Meet in Heaven,' he wrote, "… Holding anger is a poison. It eats you from inside. We think that hating is a weapon that attacks the person who harmed us. But hatred is a curved blade. And the harm we do, we do to ourselves." How true isn't it? Remember the times when you are angry or hated someone? The more intense your anger or hatred, the more it hurts from within you, isn't it?
The truth of the fact is that we need to forgive. Forgiving doesn't mean to condone with the act of the other person. It simply releases us from the negative feelings and allow us to take control from within and in return you will receive untold peace and happiness as what Robert Muller said.
Do yourself a favor today; give yourself the gift of forgiveness and to let go of whatever negative feelings within you and fill it up with love instead. And as mentioned in the post, Forgiveness, "It is the best gift you can give to yourself and you can benefit greatly from it too."
On Sale at The Knot Wedding Shop