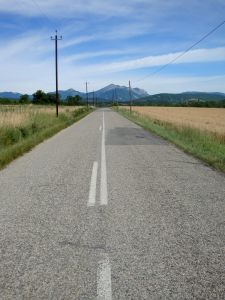 Are you wondering if I am still alive? Fortunately and I am grateful that I am still very much alive and kicking. Life has been pretty hectic for me at the moment but rest assure that I will still find time to smell the flowers and enjoy the simple goodness in life; I am still marveling at the mountains around me. By looking at the picture on the right, you might have guessed that I am on a 'journey' right now; not exactly a trip but embarking on a new project or new phase in my life … a challenging one especially with a lot of first times for me.
My journey started on Tuesday, 3 August 2010 when I left home at around 3pm with a simple backpack (with clothes and personal stuffs that are supposed to last me at least 3 months) and a laptop. Just before leaving the house, it started to drizzle all of the sudden, typical weather of Singapore where the rain could
come and go as it pleases. The drizzled lasted for a mere 10 minutes and I started my 7 minutes walk to the Mass Rapid Transit (MRT) station. It was mentally a long walk to the station with the weight of the backpack weighing down on me. The hotness and humid of the weather were making it much worse
and by the time I was at the station, I was already sweating like a pig. Guess what? The train chose the 'right' time to be late; I waited for more than 15 minutes and continued to sweat like a pig. Eventually the train came and that ended one part of the journey.
The next part of the journey consisted of a 5 hours coach ride to Kuala Lumpur. I was a little anxious since it was my first coach ride to Malaysia and there were a lot of uncertainties. I was there much earlier and waiting, alone, for the coach to arrive did not make the waiting any easier. And yet there was this element of excitement of the ride ahead; I was looking forward to the long ride. It turned out to be a pleasant ride; I made a new friend on the coach and I managed to catch the Blind Side which I thought was a pretty good movie. A lot of times we just have to take the journey. Worrying is normal but futile. We might as well enjoy it since we have to do it. It may not be as bad as what we are thinking.
All the rides were just the side dishes. The real journey has started for me. Till this point of time, I have met a few challenges … some losses and confusions amidst the journey. However, I kept telling myself … this is the greatest opportunity for me to grow. As I pass each challenge, I am a better person. As Carl Jung said, "The greatest and most important problems of life are all fundamentally insoluble. They can never be solved but only outgrown." It might seem unsolvable initially, but as we calm our mind and focus on seeking the solution and have faith, the clouds eventually disperse.
As I proceed in this challenging journey ahead, I am also excited and happy of the person I am becoming.
Wherever you are now, I wish for goodness in all areas of your life and you have nothing to fear!
————————————–
photo by Protect