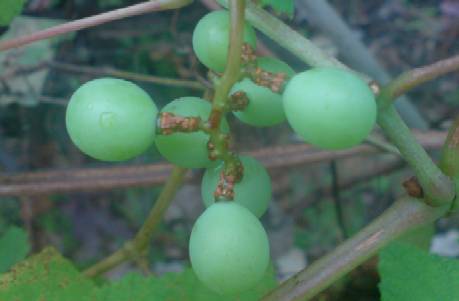 More Wordless Wednesday
Was this picture taken at the world's most expensive wine vineyard, the estate of Romanée-Conti, which blackmailer recently threatened to poison the vines. and extorted one million euros from the estate?
Or was it taken in California, the largest wine-producing area in the US?
Or was it taken in the Hunter Valley, which is just two-hours north of Sydney and seemed like the more possible location for a short weekend getaway from Singapore?
Sad to say, it was not taken at any of the vineyards in any of the above locations. I was surprised and also delighted to find this growing in Singapore. Yes, you heard me right! This is grown by Wine Culture, which is one of the premier fine and rare wines boutiques and distributors in Singapore and the region.
Of course when I saw it, I had to take a shot with my Sony Ericsson Cyber-shot camera phone. Pardon me for the low quality image. I'm sure if I have a decent digital SLR with a decent lens to go with it, I would have given you a much higher quality shot which is sharp and crisp. I am happy with this shot for the time being since we don't get to see grapes growing in Singapore everyday.