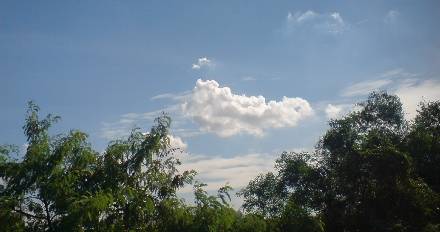 How time flies! It was more than two weeks ago when I first saw an interesting theme by PhotoHunt. PhotoHunt will give a theme each Saturday and anyone who wants to join the fun can post a photo on their sites that represents the theme. The theme that was given 3 weeks ago was "beautiful." For the first time I was on time for the photo hunt game and it was an easy theme; and so I thought. You see, the challenge was everything is beautiful and it was truly a big challenge to choose just one.
I decided to consult the online dictionary to see what its advice was. Dictionary.com never disappointed me; it gave me a satisfactory answer. According to it, "Beautiful is having beauty; having qualities that give great pleasure or satisfaction to see, hear, think about, etc.; delighting the senses or mind." The explanation was cleared but it certainly made my selection even more challenging.
Did I post any photo in the end? You guessed it right; I did not. Not because I couldn't decide on which to post (due to too many to choose from), but because the one which I truly wanted to post to reflect the theme was an "invisible" photo; one that could not be seen or heard or thought. And yet it is one that allows us to see more, to hear more and to think more.
While looking through the photos, something hit me hard on the head and knocked me out totally; not physically but mentally. It got me into my reflection mode. If someone or something or even an experience is beautiful to me, is the same someone or something or experience beautiful to you or to him or to her? Whose standard am I taking here and whose standard should be the standard that everyone can agree on? There will never be an end to this discussion if ever we started it.
As the saying goes, "beauty lies in the eyes of the beholder," one knows that beauty is something very subjective; someone or something or an experience that is beautiful to one certainly does not immediately apply to another. In so speaking, I do not find it meaningful to get into any argument with someone on this matter. However, "Could there be a common ground where everyone may at least see eyes to eyes?"
I truly believe there is. Earlier on, I said that the one photo which I truly wanted to post to reflect the theme of PhotoHunt is "invisible" not something one can see or hear. While waiting for someone to arrive for appointment on a few occasions, I was enchanted by the surroundings. I felt the wind blowing in my face and the trees were swaying and dancing and their leaves were singing; it was such a beautiful and wonderful feeling.
Through the natural disasters in Burma and China, we saw many heroic acts and sacrifices; such selfless and remarkable acts and sacrifices could only come from people with big and beautiful hearts. If you followed the Olympics that ended last month in Beijing, China, you would agree with me the many splendid and beautiful performances by the varies athletics; how determine they were even at time when they met with big stumbling blocks and might not even win a medal. Their performances nonetheless were beautiful and to a large extent touched my heart. Do you find these people beautiful? There was a factor of inspiration and also an undisputable beauty in their human hearts and souls.
Could this be the common ground where everyone may at least see eyes to eyes? Helen Keller couldn't have said it better when she said, "The best and most beautiful things in this world cannot be seen or even heard, but must be felt with the heart." Beauty then, is in the heart and soul of a person. What about the beauty of a thing or an experience? That too is in the heart and soul of a person. Through the eyes of someone with a big heart and soul, there is definitely beauty in everything he/she sees. Are we seeing eyes to eyes with each other?
invisibleSHIELD