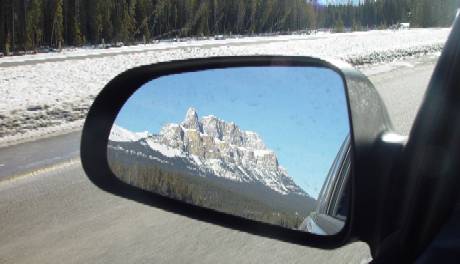 Photo by BadDude
"Nobody gets to live life backward. Look ahead, that is where your future lies." – Ann Landers
————————————–
There is power and truth in this saying. And yet, why do some of us let our pasts hang on to us and continue to make our lives miserable? Do we not have the trust in ourselves to let go and move on in life? Perhaps, we do not trust or believe that life will get better? Indeed, it is not always guaranteed that life will get better once we let go and move on. And in some cases it may get worse? So why do we even bother to move on?
That is one question which I cannot answer for you? I believe that everything happened for a reason. For what reason you may ask. Sometimes you would know the reason immediately and other times you would not. Whatever reason it may be, there is always an opportunity to learn from what happened and to grow.
Just as a toddler falling, many times, from learning to walk, the toddler didn't question why he/she was falling; the toddler just kept on trying.
As for me, it didn't always get better for me in letting go and moving forward also, but it had not gotten any worst too. In fact, whatever I had thought not possible, proved me wrong again and again. There are times I was broken and thought that I could never love another as deeply again?
And eventually when I met the person with the 'right' chemistry, sparks flew and my heart beating once again at the speed of light. Yes, I exaggerated. But I believe you get my idea that eventually we will find the 'right' person again – provided we are willing to let go and move on with an open heart again.
Letting go and moving on is not always easy. But it can also be as easy as deciding that we want to move on. Lessons in the past we need to learn but forward we must move on … for that is where our future lies.
I wish for you the strength and courage to take on any challenge that you may be facing in your life now.
Do you have any experience in the past where you had found the strength in letting go and moving forward? How were you able to overcome your challenges? And how did it turn out eventually? I believe your shared experience can empower and inspire others too.
————————————–
Save 50% on your class textbooks at coursesmart.com