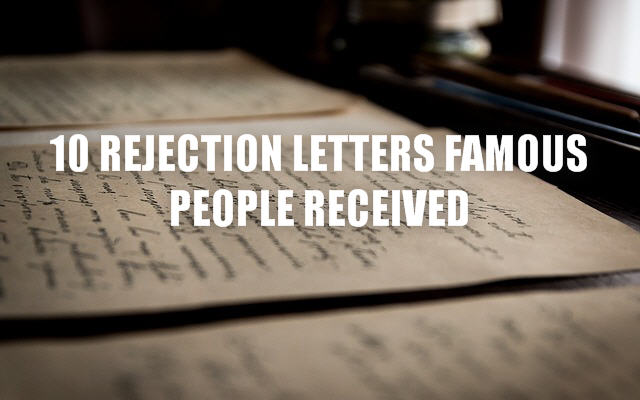 10 rejection letters famous people received
Nobel Prize winner Alice Munro made headlines when an archive of her rejection letters were found through the Harry Ransom Center at the University of Texas at Austin. Even C.S. Lewis received 800 rejections before he sold his first piece of writing. Michael Jordan did not make it to the basketball team during Junior high school; he simply wasn't good enough.
Rejection is one thing every successful person has to deal with and perseverance is everything. Quoting H. Jackson Brown Jr., "In the confrontation between the stream and the rock, the stream always wins, not through strength but by perseverance."
These are 10 rejection letters famous people received but looking at their success, we can be sure that they did not let the rejection stop them!
1. U2, 'not suitable for us'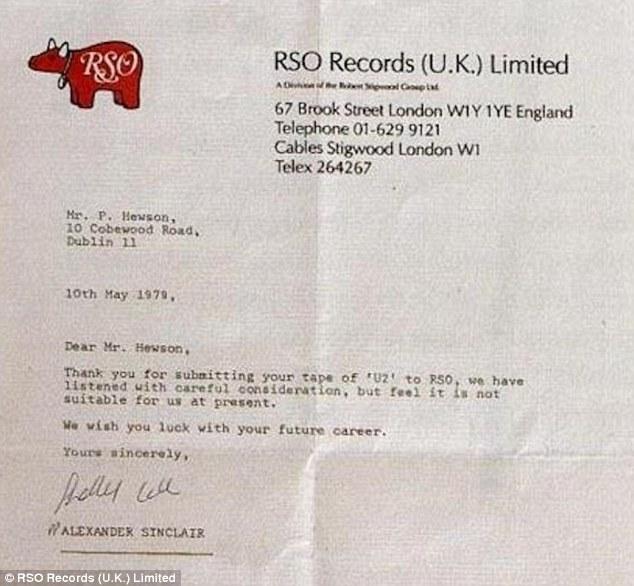 That was the infamous rejection letter U2 received from RSO Records on 10 May 1979. The letter was addressed to Mr. P. Hewson (you would know him as Bono) and stated that the demo the band had sent in was "not suitable" for the record label. Did it surprise you that U2 did not become the U2 they are known today when Bono, The Edge, Larry Mullen, Jr., and Adam Clayton formed U2 in 1976? They were originally known as The Larry Mullen Band, then Feedback, then The Hype. Within four years, they signed with Island Records and released their debut album Boy. By the mid-1980s, U2 had become a top international act.
2. ANDY WARHOL, 'The drawing may be picked up'
Andy Warhol, an American artist who was a leading figure in the visual art movement known as pop art. Warhol has been the subject of numerous retrospective exhibitions, books, and feature and documentary films. Many of his creations are very collectible and highly valuable. The highest price ever paid for a Warhol painting is US$105 million for a 1963 canvas titled "Silver Car Crash (Double Disaster)". A 2009 article in The Economist described Warhol as the "bellwether of the art market". Warhol's works include some of the most expensive paintings ever sold. However, one of his drawings, 'Shoe', was not accepted by The Museum of Modern Art as a gift as they felt it was not fair to accept his work which may be shown only infrequently.
3. Sylvia Plath, 'We'd be happy to consider it again'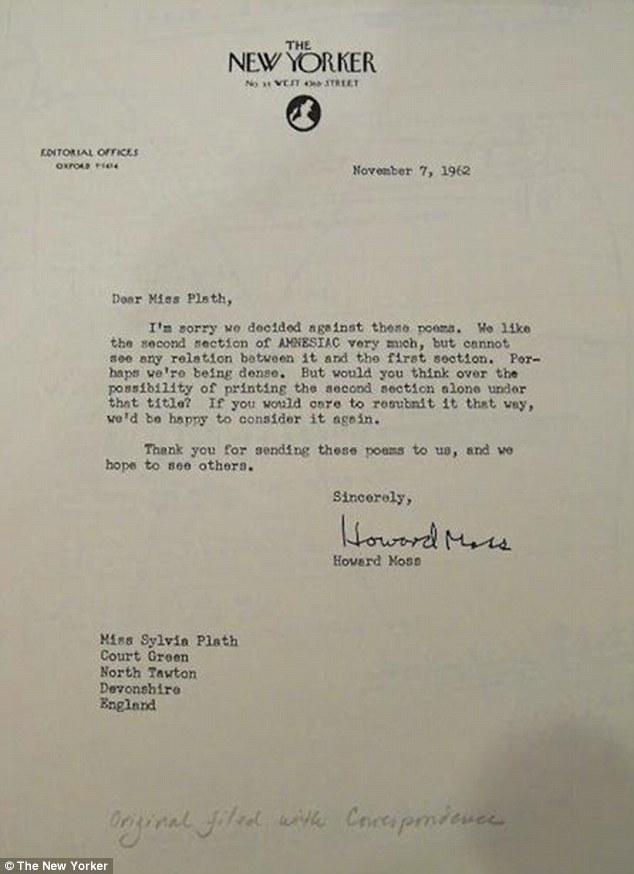 Sylvia Plath is credited with advancing the genre of confessional poetry and is best known for her two published collections, The Colossus and Other Poems, and Ariel. In 1982, she won a posthumous Pulitzer Prize for The Collected Poems. Yet her Amnesiac was sort of rejected by Howard Moss from The New Yorker who suggested for her to edit it, cutting off the first sections and resubmitting it again.
4. MADONNA, 'I will pass for now'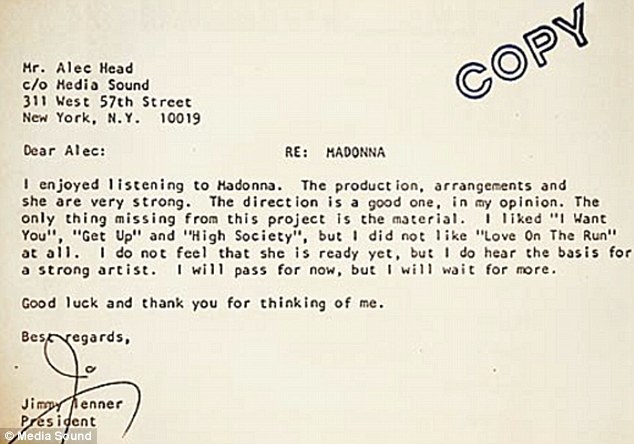 Madonna has sold more than 300 million records worldwide and is recognized as the best-selling female recording artist of all time by Guinness World Records. Yet in this letter from music producer Jerermy Ienner, who is responsible for the music in films such as Dirty Dancing, Sister Act and White men Can't Jump., Mr Ienner felt that Madonna 'was not ready yet' to have a full album produced and that he would 'pass for now'.
5. KURT VONNEGUT, 'neither one is quite compelling enough'
Award-winning writer Kurt Vonnegut published fourteen novels, three short story collections, five plays, and five works of non-fiction. He is most famous for his darkly satirical, best-selling novel Slaughterhouse-Five (1969). Kurt Vonnegut submitted an account of the bombing of Dresden and two other papers to The Atlantic Monthly for consideration but was rejected as they did not find his writings compelling enough for final acceptance.
6. TIM BURTON, 'Keep up the good work'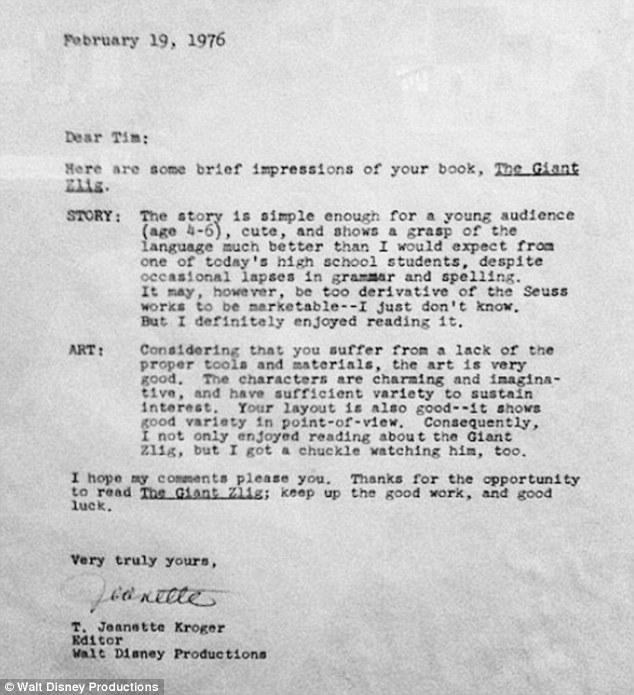 In 1976, while still in high school, Tim Burton sent a copy of his children's book, The Giant Zlig, to Walt Disney Productions for publication consideration. Although Walt Disney Productions did not publish the book, then editor T. Jeanette Kroger gave Burton some encouraging and positive feedback, and told to keep up his good work. Burton was later offered an animator's apprenticeship at the studio when his short Stalk of the Celery Monster attracted the attention of the animation department in Walt Disney Productions.
7. GERTRUDE STEIN, 'Hardly one copy would sell here'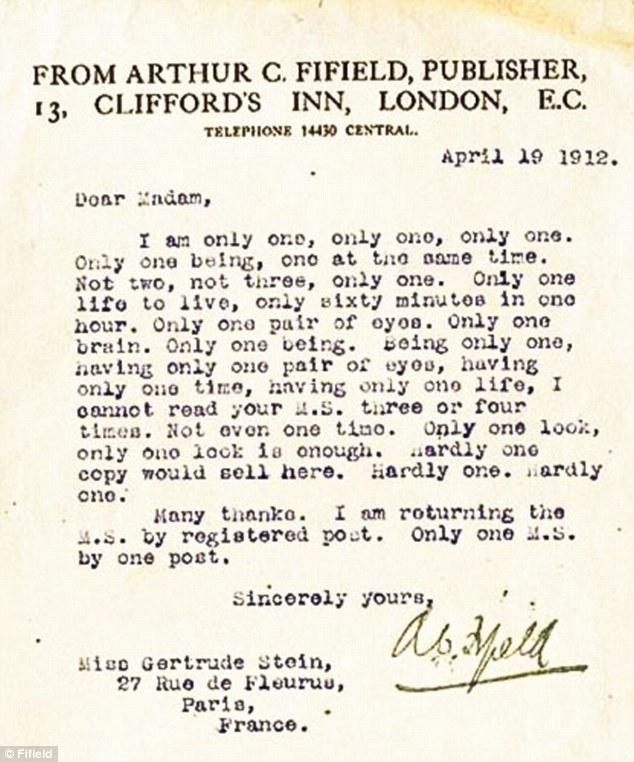 That was what Gertrude Stein got from Arthur C. Fifield. She had a hard time selling the manuscript for The Making of Americans to publishers back then. In 1933, Stein published a kind of memoir of her Paris years, The Autobiography of Alice B. Toklas, written in the voice of Toklas, her life partner. The book became a literary bestseller and vaulted Stein from the relative obscurity of cult literary figure into the light of mainstream attention.
8. JIM LEE, 'Resubmit … when you have learned to draw hands'
Eliot R. Brown, then Submissions Editor from Marvel Comics Group rejected Jim Lee's work saying that Lee's work looked as if it were done by four different people and suggested to Lee to resubmit when his work was consistent and he had learned to draw hands. Today Jim Lee is one of the world's best-known figures in the world of comic books.
9. STIEG LARSSON, 'you are not good enough to be a journalist'
This is a letter saying 'you are not good enough to be a journalist.' Despite the setback, Larsson went on to become one of Sweden's most fearless campaigning journalists before achieving posthumous fame with his Millennium trilogy of crime novels featuring the enigmatic heroine Lisbeth Salander. The three books have sold more than 55m copies. The Swedes have made them into well-received films and the first Hollywood version of The Girl with the Dragon Tattoo, directed by David Fincher and starring Daniel Craig as the woman-magnet journalist Mikael Blomkvist, comes out this year.
10. Alice Munro, 'nothing particularly new and exciting'
From an archive of rejection letters found through the Harry Ransom Center at the University of Texas at Austin, one letter written by Knopf editor Judith Jones in 1968 in response to Munro's book "Dance of the Happy Shades
," says there is "nothing particularly new and exciting" about the short stories and calls Munro "not that young." Today, Munro is the first Canadian and 13th woman to win the Nobel Prize in literature.
Source: Daily Mail Online, Mental Floss