It has been more than two months into the new year. Have you already made your new year resolutions and following them faithfully? I believe many would have resolved to be a better person this year or to have a better health. Or do you resolve to improve your relationships with loved ones and people around you? Or could it be to be more successful and wealthy this year? More spiritual and to help more people this year? Or could it be what I want to share with you in the following?
I remember reading a quotation in one of the blogs, while dropping entrecards at the start of the new year, that goes something like this, "new year is a time for us to redeem ourselves; to set things right and to right any wrongdoings and to relive our lives."
Did you put up a quotation like this in your blog at the start of the new year? If you did, I would love to give you the credit by linking back to your blog. Do let me know in the comment.
The quotation got me in deep reflection. I thought initially that new year is indeed a good time when we can start everything on a fresh note. Then again, it is only true to certain extent. Is new year the only time when we should collectively reflect upon our lives in the past year? 365 days is a long stretch of period; do you still remember exactly what you had done last year at this time?
The thing is why do we have to wait for another 365 days to pass before we start reflecting on our lives again. Who says that resolution can only be made yearly and before the start or at the start of a new year?
I am grateful for the fact that I am still alive and writing this at this very moment. I am grateful to be still breathing in the air that you are breathing. I have learnt that if I wanted to do any good, I have to be alive in the first place. What? You knew that simple truth a long time ago? Alright, I admit I am slow in some areas; better late than never.
I have reminded myself almost every night to be grateful that I am still alive. What is the meaning of being alive? To me, everyday I get to wake up in the morning, I'm bless with a gift – the unique gift of life. This gift of life continues to allow me to make a difference in the lives of others and to correct whatever wrongs done in yesterday. The unlimited potential of doing good.
Quoting a paragraph from the book, 'Make The Impossible Possible,' by Bill Strickland, "Sometimes, the hardest thing about living an exceptional life is realizing what it means, in simplest and most essential terms, to be alive. Just waking up to the fact that you are alive – that each day and each moment you're on the planet gives you once-in-a-lifetime chance to build the future you dream of …"
If I can make life easier for at least one person a day, that will be 365 people a year and around 13,000 people in my lifetime; assuming the average lifespan of a man is 70 years old. Not very impressive but not bad also. Of course, these numbers can be reduced drastically if someone up there decides that my time is up today. One must really make full use of his or her time given and live it to the fullest!
As I took in another breath, I am filled with gratitude. Time is bad now especially with the financial crisis happening everywhere and it may have taken its toiled on you, but to be alive, you are open to greater possibilities and potentials. It will get better! Quoting something John Gokongwei, Jr. said, "The important thing to know is that life will always deal us a few bad cards. But we have to play those cards the best we can. And we can play to win!"
Last but not least, I would like to wish everyone a Happy Valentine's Day. Yes, it is that time of the year again where lovers will re-pledge their loves for their loved ones. Take this day to renew your vow towards your loved one but always remind yourself that everyday is a Valentine's Day.
——————————————————-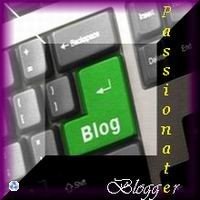 Thank you iWalk from iWalk, U2? for giving me the passionate blogger award and to Michele from Digital Artisan for giving me the Lemonade Award.
I would also like to take this opportunity to thank Aldon from Orient Lodge for informing me of the Trojan alert coming from my website a few days ago and for helping me to test it after I cleared the site of the alert. Thank you for taking the time to do that. And I hope that none of you were affected by it yesterday. My sincere apology for any inconvenience caused to all of you.
Yahoo! Personals 7 Day FREE Trial offer