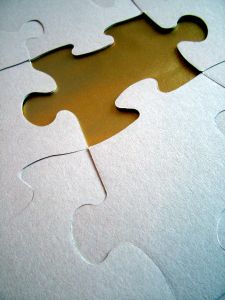 Which will you choose? A jigsaw puzzle that you can get easily in a shop where you get to choose the exact picture that you want; it could be a cute dog, a beautiful mountain or landscape scenery, famous Disney's cartoon characters and just about anything you can think of. How about a jigsaw puzzle where you don't get to see the whole picture? It is like what Tom Hanks said in Forrest Gump, "Life was like a box of chocolates. You never know what you're gonna get." That is too much uncertainty for most to deal with and yet the excitements that come from the uncertainties are intriguing to some. Life wouldn't be colourful if everything is as planned.
In so speaking, which will you choose? I like some excitements in life because they are usually unexpected, which make life more colourful and even more interesting, though excitements may not always be good. Yet at the same time, I think it is important to have plans and goals in life so that we know where we are heading to. The end destination might not always be what we expected but just like the say, "… it is not the end destination, but the journey towards the destination that is most important …" It is important that we enjoy the journey and stop at time to smell the flower along the way. Don't worry too much about the end destination because when you shoot at the stars, even if you don't hit any, you will end up among them.

"Shoot for the moon. Even if you miss, you'll land among the stars." — Les Brown
In an email which I received recently, it mentioned that patience is a virtue. I agree with it immediately when I read the subject line. However, I do not agree totally to the story that was used to illustrate that patience is a virtue. The story went that a couple sought only a job that would keep them in town but ended up with a multi-million dollar company. Patience is certainly a virtue in this case as building a multi-million dollar company not only takes time but also a lot of hard work. So what is it that I don't agree?
In the story, it said that if the couple had seen the final picture, or the picture on the front of the jigsaw puzzle box, they probably would have shaken their heads and said "Impossible Dream." It may have appeared to them so hard or impossible to bring to life that they may never have embarked on the journey at all. If you knew how it would turn out? Would you have said, "Impossible Dream" too? Probably a lot of people would have said that while some would hold on to that image and knowing that they could not fail, they would push on into the unknown bravely.
Some men see things as they are and say, "Why?" I dream of things that never were and say, "Why not?" — George Bernard Shaw
It is not the picture on the jigsaw puzzle box that would stop the couple, it would be themselves. It is important to have the end picture in mind and even more important to make plans and goals in working towards the picture in the mind. Just do what is in your heart and trust that eventually you will get there.It is of the utmost importance to believe in yourself and have faith that you can achieve the picture in your mind. Keep this closely in your mind.
"When the night is the darkest, it means that soon the day will break. Press on!"
Yahoo! Personals 7 Day FREE Trial offer