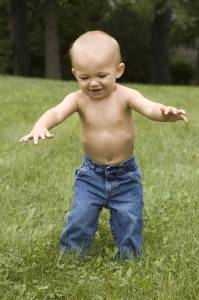 According to WikiAnswers, an average moderately active person takes about 7,500 steps a day. Assuming that the person walks everyday starting from the age of one till the age of eighty, he/she would have taken more than 200 million steps in his/her lifetime. Who would have thought?
We started walking intuitively and probably from seeing our parents and other adults doing it; we imitated them. We fell and we picked ourselves up repetitively and fearlessly. Pretty soon we were walking steadily and the daring ones were already running. Through sheer hard work and encouragement, we had not only mastered the art of walking but also doing it with ease. Had we ever questioned the hard work we put into learning to walk?
Are there something which you are hoping to do well? I have an interesting news for you. With hard work and I mean a lot of hard work, you can achieve excellent in what you hope to do well. And not just hard work, "But work of a particular type that's demanding and painful," according to a report by CNN on the Secret of Greatness.
"I do not have the innate gifts to be successful." From the above mentioned report, British-based researchers Michael J. Howe, Jane W. Davidson and John A. Sluboda conclude in an extensive study, "The evidence we have surveyed … does not support the [notion that] excelling is a consequence of possessing innate gifts." The first major conclusion is that nobody is great without work.
A lot of people are working hard and yet not many are achieving excellent results. Where did it go wrong? The biggest challenge is that most people are just blindly charging ahead. A friend of mine shared his Cycle of Excellence with me a few years back. It is a simple feedback system he uses for his students so that they can constantly monitor their own results through feedbacks. Through the system, the students can pin-point what produces positive results and do more of that.
Besides monitoring which of our hard work produces positive result, a paper published by professor K. Anders Ericsson of Florida State University and two colleagues in 1993 notes, "Elite performers in many diverse domains have been found to practice, on the average, roughly the same amount every day, including weekends." Thus, we also need to put in consistent hard work.
Many would have spent the weekend otherwise. Not many are willing to go the extra miles and that is why not many can achieve greatness. At least we know now that achieving greatness is not only for the privilege few but available for you and I.
"What we hope ever to do with ease, we must learn first to do with diligence." – Samuel Johnson
————————————
The Knot Wedding Shop has the best selection of wedding favors. Make them unique for your wedding with free personalization.