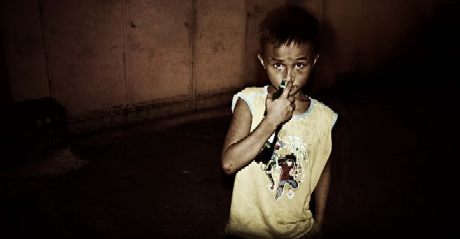 Photo by Akira Liwanag
I have been troubled by a thought in my mind for the past few days. Although here in Singapore, my mind wanders off to a faraway land where I see heart-breaking images that my friend has 'painted' to me; kids in the street sniffing 'rugby' (a brand of glue) in bottles, plastics or paper. Through a TV report, my friend learned a haunting truth. A boy was asked the reason why he sniffed rugby and he replied that sniffing it helped him to stay full.
From another friend who is also from Manila, Philippines, she told me that at times you could even see a whole family sniffing away. Can rugby really make them full?
Somewhere in Cebu, Philippines, "A woman was walking on a flyover along Osmeña Boulevard when a small kid suddenly grabbed her blouse and stretched his hand to her as a sign of asking for something while his other hand holds a plastic containing a yellowish substance.
Aghast and caught off-guard, the woman took some coins from her bag and put them into the boy's grimy palm. Then he runs to a pack of children huddled together in one part of the flyover, sniffing plastics of strong and addictive industrial glue…" Could this be a familiar scenario to you too?
What do you think we can do to help? In an article I read, from associated content, "…there is a law prohibiting the selling of solvents to minors without parental consent …." And yet there are store owners who are still selling rugby illegally to minors and even teaching the children how to get away with buying rugby. The law must be there to prohibit the sales of solvents to minors without parental consent and the people who illegally sell solvents to children must be severely dealt with.
However, on top of the law, we will also need a long term solution. My friend and I thought that shelter, foods and even stable livelihoods will be the long term solutions. If the children in the street can be fed and protected with love and care, will they let go of the bottles, plastics or papers of rugby in their hands? I believe they will.
Providing shelters, foods, livelihoods seem to be the straightforward solutions. The question is, "who should be the one providing them?" Should it be the sole responsibility of the Philippines Government? Most will agree? I believe that besides the government, any organisation and individual with the resources could provide aids too.
How about the general public? When united, the general public will be the powerful driving force to see through projects by government, organisation and individual. What else do you think can be done?
I believe first and foremost, the opinion about the street children needs to be changed. According to an interview with Cameron Sugden (a volunteer with the organization Bahay Tuluyan in Manila), "…Street children are often called 'yagit' by the general public – which translates as 'rubbish on the street'. This is something very sad. From young, I have been told that children are the future of the nation.
Yes, these children can be the future of the nation. But without your help, what future there is to talk about? You have the power to help; with your help, this post can find its way into the hands of people who may have the resources to help these children.