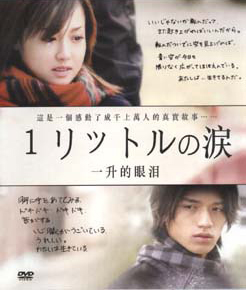 1 Litre of Tears is an inspiring true life story.
The drama is an adaptation of the diary of a Japanese girl named Aya Kitô, who suffered from spinocerebellar ataxia. She began keeping a diary at the suggestion of her doctor, and continued to write until she could no longer hold a pen. The diary, titled 1 rittoru no namida, was published shortly before her death. Although some of the characters and situations are fictionalized in this television version, the dialogue frequently draws directly from Aya Kitô's own words. Moreover, each episode concludes with a narrated diary excerpt, framed with photographs from various stages in Kitô's life, before and after her diagnosis. (from Wikipedia)
I was on MSN last night when my friend asked me, "have you watched 1 litre of tears on youtube?" I told him no; I have not even heard of this video before. He told me to go watch it in youtube and before he went offline, he said again, "must watch it!"
When I woke up this morning, the first thing I did … search for 1 Litre of Tears on youtube? Definitely not. I got to wash up and brush my teeth first 🙂
As soon as I am done with my morning routine, I got down to do some work and remembering about the video my friend mentioned last night. I found the video without much difficulty in youtube and watched a few episodes of it.
Indeed, as what my friend mentioned, it is an inspiring and touching show. I cried in almost every episodes of the show. I managed to get a few phrases from what the person said: "If I were a flower, then now I'd be a bud. I shall treasure the beginning of my youth without any regrets." and I really don't want to say things such as "I want to go back to how things were before." I recognized how I am right now; and I will continue to live on." – Aya Kitô
So true that for some of us, everyday we take for granted that we are able to walk, to run and to speak at anytime we want to; we instructed our body to act according to our intentions. All these come so naturally that we tend to take it for granted. What if we find out one day that we will slowly lose the ability to walk or to speak at will, what is next? Let us treasure what we have now and be grateful for all the goodnesses in our lives.
Let us be like Aya Kitô who proved her courage and positive attitude towards an uncertain future when suffering such an illness, spinocerebellar ataxia.
*Update: Please note that Videos are not uploaded nor hosted on symphonyoflove.net
1 Litre of Tears Episode 1

1 Litre of Tears Episode 1 part 1/4

1 Litre of Tears Episode 1 part 2/4

1 Litre of Tears Episode 1 part 3/4

1 Litre of Tears Episode 1 part 4/4
Episodes: 1, 2, 3, 4, 5, 6, 7, 8, 9, 10, 11