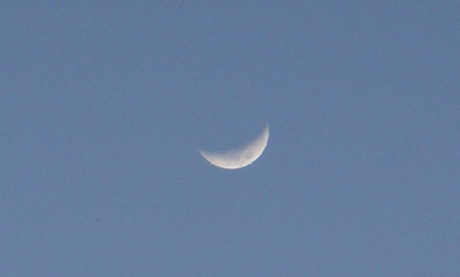 More Wordless Wednesday
This was not taken with my usual Sony Ericsson Cyber-shot camera phone; I don't think it is capable to capture a shot like this. This shot of the moon in the day was taken with my cousin Sony T500 Cyber-shot digital camera. I do not know what picture mode she used for this shot. However, it turned out pretty well. You can almost see some of the bigger craters of the moon.
You may be asking me what's the big deal with the moon? Most probably you have seen it through documentaries in TV or from pictures in magazine. I thought nothing of the moon previously too; the moon was just a distant object in the sky orbiting around Earth.
But back in 1993-1994 when I was in the Astronomy Club in my Junior College, I was fortunate to be able to see the moon through the telescope in my school. I couldn't remember if it was a Celestron but it was a pretty decent telescope. It was truly awesome seeing the moon through the scope. You could clearly see the craters and the terrains on the surface of the moon.
On full moon day, it will be so bright that we had to use a filter to view it through the telescope. And it was also through the scope that we got to see Jupiter and four of its biggest moons. It was amazing to see the moons of Jupiter always in different positions around it.
The most spectacular view I had was definitely that of Saturn and the rings around it. We even tried attaching a camera to the telescope to take some shots of the moon and Jupiter but it wasn't successful. Hope I can dig out some shots and share it with all of you next time.
——————————–
Affordable Dental Care