"In every man there is something wherein I may learn of him, and in that I am his pupil." — Ralph Waldo Emerson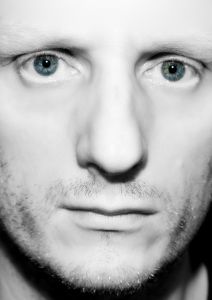 By looking at the face on the right, can you tell if the man is good or bad? I wouldn't want to even make a guess. Who am I to judge anyone anyway. How often have we heard the quote, "never judge a book by its cover?" And yet more often than not, when we see someone or a scenario, we tend to take pleasure and jump in quickly to judge the person or the scenario. I guess it is only human nature and it takes years of practice before one can learn to see things in an objective manner.
In one of the shows which I watched previously, a father was having a conversation with his son. The father said, "If you keep looking at your feet, your scope of view will forever be around your feet only. But if you raise your head to look at the horizon, your scope of view will be magnified many times and you will have new perspective or view."
Isn't that very true? Judging people and scenario upon first impression is like looking around one's feet; what one see will be limited. Not to mention that one already knew the size of one's feet. One will quickly jump to the conclusion that one knows everything that one needs to know already.
However, when one reminds oneself that he/she could be wrong, one immediately move into the horizon view. Now there is more information that one needs to process and one's eventual conclusion will be of more depth and completed.
A few years back I was first enlightened about this from the book '7 Habits of Highly Effective People' by Stephen R. Covey (I hope my memory didn't fail me). In one part of the book, a scenario described of a man in a train on a certain day and sitting near to him was a father and his son. The boy was making a terrible racket in the train but his father just sat beside his son quietly without stopping him.
The man finally lost it and asked the father to discipline the boy and to prevent him from creating so much noise in the train. The father said, "I very sorry that my boy is creating such a terrible racket in the train. The boy's mother just passed away and he didn't know how to handle it."
What do you think was the reaction of the man? Just like how you have reacted probably. So we can see that an understanding was reached in this scenario and somehow the terrible racket that the boy was creating seems somewhat more bearable.
I have been using this story to remind myself to be more understanding and to always do my best to look at things from a telescopic view.
Have you ever been in such a situation whereby you misunderstood someone or jump immediately to the conclusion, only to realize it later that you were actually wrong? Please feel free to share with me and enlighten me from my ignorance.
Yahoo! Personals 7 Day FREE Trial offer with 6 months guarantee.