This is a long overdue post. My sincere apology for the long delay. I was very surprised and honored at the same time to be awarded with the 'I Love Your Blog' award from not one person but from two or could I say two ladies and two cats? Both came in at the same time. Although I don't usually do posting like this, I am truly honored. I really appreciate both your kindness.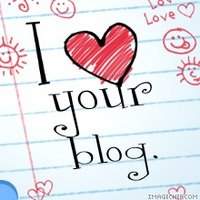 Special thanks to Ana, Chica and Pumuckl from Chica & Pumuckl – 2 Egyptian Cats in Germany. Chica & Pumuckl have just moved to Germany with Ana and they sure are having fun exploring every inches of the new house. It is always such great fun reading this blog. The one thing I love most was to see Chica & Pumuckl cuddling in sleep; it always felt so peaceful looking at them sleep. And poor Ana, I bet she has to give up a big part of her bed to Chica & Pumuckl often. However, somehow I feel that she is more than happy to do that. Right Ana? 🙂
I want to thank Rashieka from My Name is Rashieka also. Rashieka is a 6 year old young lady who started blogging with help from her mommy. It is always lots of fun reading her posts too. Although most of her posts were just a few lines, they never failed to put a smile on my face. Thank you Rashieka. Keep on writing!
In addition to the above two ladies and two cats, there are two other ladies that I would like to thank. First of all, I would like to say a big thank you to euphoricgirl from Simply Euphoric. I logged in to my EC account one day and found out that I had gotten a big amount of credits transfered to me and I was clueless where all that credits came from; not until I was over at her website. It was then that I realised she has rewarded me with 1,000 EC credits for being the top dropper of her site. So if you are reading this now, do go over to her site after this to drop your card. 😉
The other lady that I want to thank is Sue from Stay at Home Mom. She had also rewarded me with some EC credits for being one of her top EC droppers for the month of August. Thank you Sue.
Last but not least, I want to thank all readers, EC droppers and basically everyone. Symphony of Love hopes to continue to spread love wherever it goes! – but I cannot do that without the help from all of you wonderful souls out there. Thank you!
DentalPlans.com – Savings, Service, and Selection
Yahoo! Personals 7 Day FREE Trial offer
(Backed up with promise from Yahoo!: If you do not find someone special by the end of your six-month subscription, Yahoo! give you another six months for free!)