Reading a petition started in AVAAZ.org awhile ago has gotten me to look at this post which I had first written back in August 11, 2008 and decided to re-post it to raise awareness.
No Honey, No Haagen Dazs Strawberry Ice Cream
Believe it or not, 'No honey, No ice cream?' You must be kidding me? Most of you would have heard something like, "No money, no honey?" And now, "No honey, no ice cream." Well, not what you have in mind. 'Honey' here means 'honey bee' – to be more exact. And what has honey bee got to do with ice cream? Can you imagine what the world would be like without ice cream? I can't even bear to think about it. I remember growing up with ice cream being one of my favorite desserts; there was once during my army days, when a camp-mate and I each finished a whole tub of peanut ice cream. You can't really blame us, it was summer in Taiwan then, where we were having our training, and the peanut ice cream simply tasted too good.
Whenever I heard people talking about ice cream, my face would literally lit up – 'Eating ice cream makes one happy.' So when do you think is the best time to eat ice cream? I heard someone 'shouting' anytime? I have a friend who shared this common thing about ice cream; we both love to eat ice cream on a rainy day or on a cold day. To us, ice cream seems to taste especially good on a cold day.
And here was how I discovered the Haagen-Dazs online advertisement back in August 11, 2008:
While I was surfing and reading some blogs on the net the other day, I saw this very interesting and attractive advertisement by Haagen-Dazs about honey bee. Out of curiosity, I clicked on the advertisement and it brought me to a well designed interactive flash website with the heading, 'Imagine a world without honey bees.' Then there is a passage after that that caught my attention:
"Now imagine that world without tasty pears, luscious raspberries and juicy strawberries. Honey bees are responsible for pollinating one-third of all the foods we eat, including many of the ingredients that define our all-natural ice creams."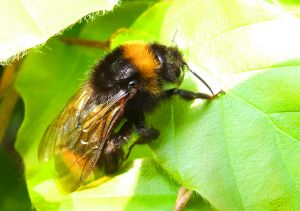 Do you know about that? I certainly have no idea. Just one of the things I learned while exploring the website:
"Cherries: We cannot tell a lie. More than 80 percent of all cherries rely on honey bee pollination. In order to produce quality fruit, a cherry blossom must get 100 grains of pollen from a honey bee visitor. Luckily, honey bees can carry as many as 100,000 grains of pollen at once!"
According to this article, 'Disappearing bees threaten ice cream sellers' by Parija B. Kavilanz, which I found on the site from CNNMoney.com, "Premium maker Haagen-Dazs says vanishing bee colonies in the United States could mean fewer flavors and higher prices." I have learnt from young that the honey bees are very industrious but I never knew that honey bee can be so important to an ice cream maker.
"Honey bees apparently are responsible for 40% of its 60 flavors – such as strawberry, toasted pecan and banana split and these are among consumers' favorite flavors," according to Katty Pien, brand director with Haagen-Dazs. In fact, one-third of the U.S. food supply – including a variety of fruits, vegetables and even nuts – depends on pollination from bees. And we think that oil price increases will increase food prices. If there are no honey bees, then we may not have one-third of the food to begin with?
_________________________________
It was comforting to know that at least premium ice cream maker's like Haagen-Dazs was doing their bit for the honey bees in 2008. No doubt they have financial interest, it was still a great thing to do, to raise consumers' awareness about the issue. We do have to give recognition to the honey bees for billions worth of work each year! Just in case you are wondering if Haagen-Dazs paid me to spread the message, I was not paid anything then and certainly not anything now to spread this message. However, it would be a great idea if I can get free tubs of Haagen-Dazs's ice cream to share with my family and friends.
If you do love your ice cream, I do urge you to do something too. Go to AVAAZ.org to sign the petition. Next time when you have a tub of Haagen-Dazs's ice cream, think about the honey bees and remember 'no honey, no ice cream.' Thank you my honey friends.
Photo credit: Sarah Gilbert