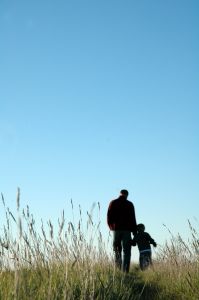 Have you heard of a quotation that goes something like this, "Live your life the way such that when you were born, others were smiling and when you are dead, they are crying?" You might have already heard something similar before. When I die, I do hope to 'see' my loved ones smiling.
As most people will say, it is not the quantity but the quality that counts. That is certainly true for most people. The question remains, "Are we living the kind of quality life?" Just as one man's meat is another poison; what depicts a quality life to one may not be to another. One has to know what one's definition of a quality life is.
I was talking to a friend in Yahoo messenger recently and she told me that she still missed her father sometimes. I didn't know at what age her father was when he passed away but one thing I am very sure, he was a great husband and father! Quality life can be that simple – to provide for loved ones and to be always there for them when they need you. Quality life doesn't have to be a life of luxuries where you are eating the best food, wearing the best silk and drinking the best wine.
Recently, I was at the temple paying respect to my father who passed away for more than two years now. On that day, there were 13 of us altogether at the temple including my mother, brother, sister and my father's sisters. Time seems to pass quickly and quietly for one who was no longer with us. He has continued to live in our heart. Probably that was what it meant by the quotation above, "Live your life the way such that when you were born, others were smiling and when you are dead, they are crying."
My father was an ordinary man and he had been a cab driver for all his life; up to the point before he left us. However, he was an extraordinary son, brother, husband and father. A man of few words, he shown his loves and concerns through his actions. He was filial to his parents and always found time to visit them every weekend and spent time with his brothers and sisters too. As a responsible husband, he had taken on the duty to drive my mother to and from work almost everyday. As far as I can remember, he rarely quarreled or even raised his voice at my mother. And although he did not earn much, he still passed allowances to my mother without failed.
To us, he had always been a strict father who never failed to punish us when we did wrong. His loves and concerns for us were also shown subtly through his actions. I could say that my brother, sister and I were very fortunate as we never had to go hungry. Our allowances for the school had always been generous too and allowing us to save up quite a bit to buy things that we wanted. There were times when he would be out with his friends and he would always call home to check if we wanted supper. He had been a good role model to me and I had learnt numerous values in life from him.
If you asked me, "Had he led a quality life?" I couldn't answer for my father as I had never asked him before on what was considered a quality life to him. However, to me, it definitely can be considered a quality life. As I mentioned earlier, the definition of a quality life differs from one individual to another. You have to ask yourself what will be considered a quality life to you. To me, a quality life is to be able to affect people positively and to influence them to lead a better life.
That is one reason why this website was set up in the first place. Initially (and it remains the same), I just wanted to share with people around the World the positive power and wisdom in love quotations. Now, besides doing that, I also want to advocate love and tolerance in the world and to positively affect the lives of people. No matter how long you'll be alive, what is most important is to live a quality life; one when you look back, you can smile and be proud of. Let Us live a quality life and live it to the fullest!
————————————
Search Here for Hotels.com Best Hotel Deals!