What Is This All About?
Thank you for visiting Symphony of Love. It was first created in 2006 to share with you the positive power and wisdom in love quotes and the mission has never changed, just clearer and more defined now as when it first started back then. When I first started Symphony of Love, I only had the intention to share the wisdom of love quotation with others. However, with the addition of the Blog, I started to share my own thoughts, perspectives and ideas of love and peace; they continue to ring in my head time and again. It was not until last year that I formed sort of a Mission Statement: Inspiring Love and Peace through Understanding. With the Mission Statement, everything falls in place.
My focus is on inspiring the peace through peace within myself and through understanding the difference between each other. There will always be differences and similarities. It is important to acknowledge the differences so that we can learn to respect each other's culture and yet we focus on the similarities. I look upon us as not from US or from China, or from Japan, or from India or ... I think you get my idea. I look upon us as human being; we all have our families and friends.
With mutual understanding, love and respect for each other, I believe that we would one day enjoy peace in the world.
Click here to start browsing Symphony of Love's love quotes or click here to start reading Symphony of Love's Blog.
Or check out Symphony of Love, the Pictorial eBook of Love Quotes. There are altogether 365 carefully selected love quotes and pictures in Symphony of Love. Click on the picture for more information.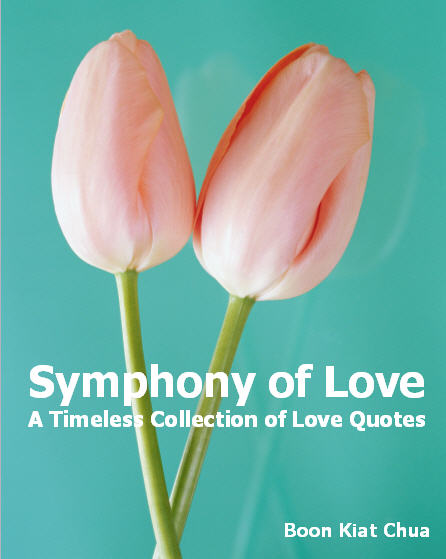 Get Daily Love Quote in Your Email
Join the Mailing list for Daily Love Quote in your Email now and get a Free copy of "What is Love?" movie. The name and email address collected are not sold, given, or in any way disclosed to a third party. We will never give out your email address.